Human Rights education and workshops in schools in Albania
PVN is an Albanian non-profit organisation that promotes peace through voluntary work and exchanges volunteers all over the world. We are looking for two volunteers from Ireland starting 15th March 2020 for a period of 2 months.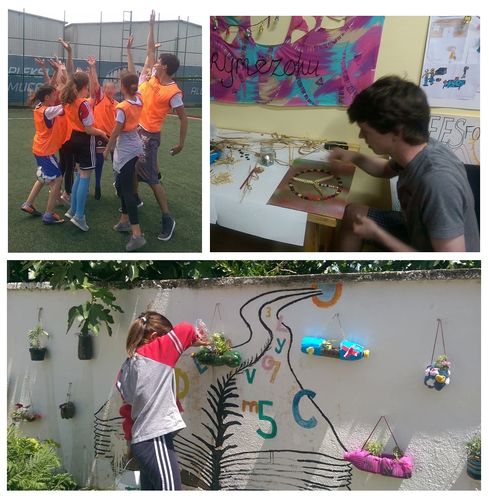 About the organization
Projekte Vullnetare Nderkombetare (International Voluntary Projects, PVN) is a non-profit organisation sharing the aims and values of Service Civil International (SCI), a network of branches and partners all over the world.
PVN promotes social development and peace through voluntary work and international youth exchanges. Besides cooperating with SCI, PVN organises their own social, ecological and cultural activities. The organisation aims towards a healthy society in collaboration with different partners to encourage public awareness and its involvement in voluntary activities. The main target groups of PVN are people in need, such as orphans, disabled people, Roma, and young people.
Volunteer's role
Political and economic changes in Albania in the early 1990s caused more than 20% of the population migrating from rural areas. This project focusses on human rights education with young people, most of whom are internal migrants. The volunteer will work on raising their awareness on human rights and interculturalism, using non-formal education methods. The volunteer will also promote a cultural centre to the young people. The majority of the project activities will take place in disadvantaged areas in the Vaqarri and Ndroqi municipalities of Tirana.
The main duties of the volunteer may include:
- supporting PVN's coordinators and volunteers on the schools' projects in Vaqarri and Ndroqi, delivering non-formal education sessions on the topics of discrimination and human rights issues.
- promoting and supporting the Cultural Centre in Tirana which young people visit to practice artistic and cultural skills. The volunteer will help in informing them about the Centre services and how to use them. The EVS volunteers will help with intercultural and social activities such as intercultural events, movies, shows, etc.  
- promoting EVS, volunteering values and PVN volunteer opportunities; visiting universities regularly to carry out presentations/open discussions and delivering materials on voluntary opportunities in Albania and abroad, especially Erasmus+.
- helping to prepare promotional materials e.g. posters, leaflets, flyers, press releases etc.
Requirements
No specific skills or experience are required for this role but the volunteer should be interested in working in an international organisation, in human rights, 'interculturalism', volunteerism and in social inclusion.
Accommodation
The volunteer will be in a flat with shared kitchen, toilet and bathroom.
Application
If you are interested in this project, please fill out the application form to take part in this project. 
Application deadline: 09/02/2020
Costs
The European Solidarity Corps (ESC) is an EU funded programme that gives young people (aged 18 to 30) the opportunity to volunteer in an organisation abroad. The funding covers travel expenses to and from the project as well as accommodation, food, a small personal allowance ("pocket money"), insurance, language training and local transport during the project.
Interested in applying or need more info?  Contact Mateja in VSI:  0873367275 mateja@vsi.ie