I first travelled to Portugal at the end of February/beginning of March 2020 when there were talks about a virus called COVID-19. Little did I know that in such a short space of time I would end up moving there, in the middle of a global pandemic...to volunteer for nine months!
In September 2020 I travelled to the medieval town of Santa Maria da Feira to take part in the "People & Planet" project with Rosto Solidário. Rosto Solidário is a non-governmental development organisation that fosters global citizenship and solidarity by enhancing local communities' human and social development. It's scope of work includes four main areas: International Development Cooperation, Global Citizenship Education, Volunteering and Family-based Social Support. Gender Equality, Human Rights and Social Inclusion are also some of it's cross-cutting subjects. I chose this organisation because I wanted to be immersed in a wide variety of projects that benefit both the local and global community - so brace yourselves as I list them all!
One of my main roles was managing the volunteer social media sites in order to increase user engagement. I edited the content created by the other volunteers in addition to creating my own. Using photos, videos, graphics and interactive stories, I aimed to raise awareness of topics such as the Sustainable Development Goals, food waste, environmental protection and to update our followers about the work we were carrying out. You can check out their Instagram page here.
Along with the other volunteers I helped to start a community garden or "Horta Solidária". We grew a wide variety of fruit and vegetables - strawberries, beans, carrots, courgette, peppers, beetroot, cabbage, tomatoes and many more delicious and nutritious foods. Whatever we harvested was given to the beneficiaries of our food bank as part of their weekly food hampers. I thoroughly enjoyed being a part of this project - from making our own compost to preparing the land, to planting the vegetables and harvesting the fruits of our labour. I like to think that this is my small contribution towards SDG2: Zero Hunger, which aims to "end hunger, achieve food security and improved nutrition and promote sustainable agriculture."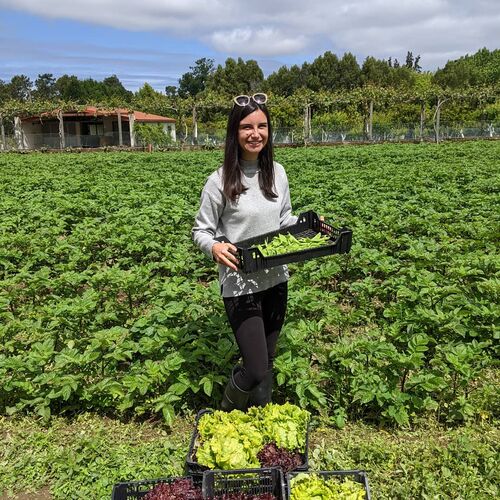 Marisa in the "Horta Solidária"
We also set up our very own business called "Novo de Novo" which means "New Again". We upcycled old or broken furniture and transformed leftover textiles into clothes, bags and decorations. Upcycling has a hugely positive impact on the environment, reducing the need to produce new or raw materials, minimizes waste sent to landfills and cuts down on greenhouse gas emissions and water and air pollution. I have learnt a lot of new skills in the area of crafting and upcycling as well as marketing and business and it's great to see what was once an idea come to fruition!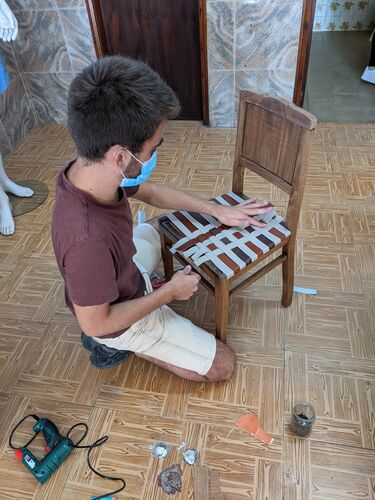 Just one of the many examples of upcycled products from "Novo de Novo"
Also in the area of benefiting the environment is the reforestation and environmental protection work I did with the organisation Movimento Gaio. Alongside several other volunteers we planted over 80 trees, staked young trees to protect them from the strong mountain wind and cut gorse to prevent the spread of wildfire.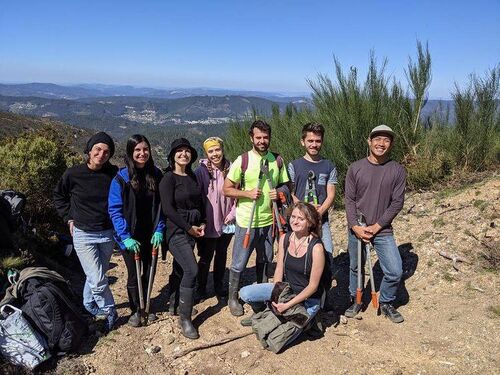 Marisa with other volunteers from Movimento Gaio
Other areas that I explored included: social support, development and education. Whilst volunteering at Centro de Apoio Familiar e Aconselhamento Parental (CAFAP) or in English: Center for Family Support and Parental Counselling, I helped to produce a game to promote awareness of Child Abuse Prevention Month. The game which was given to families aimed to strengthen interpersonal ties by creating a story based on creativity, love and respect for each other.
Once a week I tutored a secondary school student who needed help with her English schoolwork. I loved being able to offer not only English lessons, but support and a listening ear to a young person in need during such an uncertain time and was elated when she passed all her exams.
Another rewarding part of my experience was my time spent with my many four legged friends at The Association of Friends of Animals of Santa Maria da Feira (Aanifeira) animal shelter. For several hours each week I helped take care of over 220 dogs and 60 cats and cleared plots of land for the animals to roam around freely in.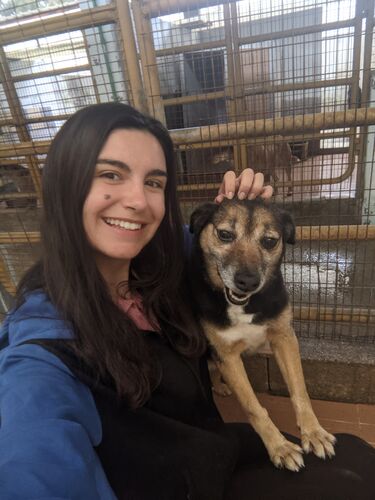 A furry companion!
As well as all of the above, I was also involved in: facilitating workshops for youth groups regarding citizenship and environmental awareness, organising a number of beach clean-ups and solidarity markets and coordinating food and clothing for families in need at our food and resource bank.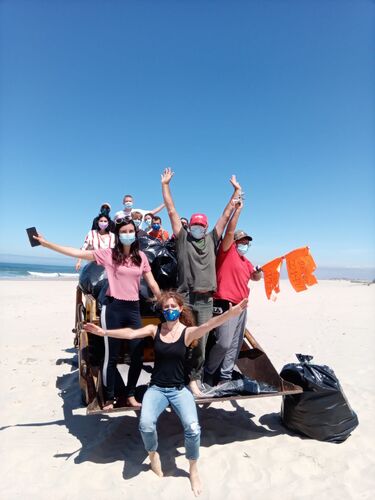 After the intense lockdown and weekend curfews I was determined to see more of Portugal once restrictions were lifted and was able to travel the length of Portugal visiting - Porto, Aveiro, Coimbra, Lisbon, Nazaré, Sintra, Fatima, Amarante, Guimaraes, Braga, Viana do Castelo, Lagos and Faro. One of the highlights of my travels (other than indulging in pastéis de nata) was my adventure to the Azores, an absolutely magical archipelago where I kayaked in volcanic crater lakes, bathed in hot springs, and swam in the 30°C ocean.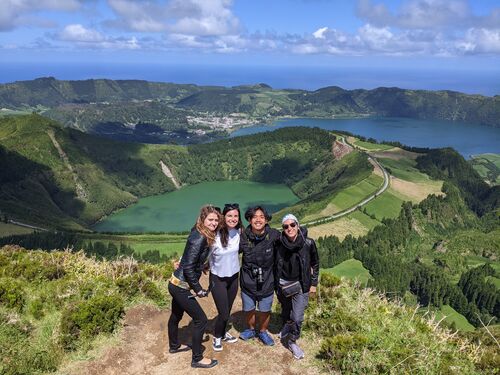 Marisa with her Limãos family in the Azores - lucky them!
People always say that it's the people that make a place and in this case it's very much true. I got to share all of these experiences with my volunteer family (also known as Limãos) from: Laos, Italy, Russia, France and Turkey. Of course none of this would have been possible without the support of my coordinator Carla and all the Rosto Solidário staff and the team at VSI. Muito obrigada por uma experiência inesquecível.
Time is our most precious resource, so to those of you thinking of volunteering, I say… Go for it!