Find a Project - SCI Long Term Project Database
Every 2 months SCI branches and partners worldwide update their vacancies on the new SCI Long Term Project Database Some of the projects come under the European Voluntary Service programme but many are open to all volunteers.
What kind of projects?
There are a wide variety of projects each year, e. g.
Working in a centre for refugees in Switzerland
Helping with activities at a centre for young deaf people near Warsaw
Working in a centre for learning disabled adults in Vermont
Working in a youth centre in Paris for disadvantaged youth
Working in an environmental / conservation project near Milan
What can I expect?
Although no two projects are the same, the volunteer can expect the following:
A contract with a detailed job description, working hours, free time etc
Useful work and special training where necessary
Food and accommodation will be provided
Insurance cover
Some projects offer pocket money
What are the costs?
We ask volunteers to become a member of VSI and to pay a project fee with their application
Volunteers cover travel costs to/from the project
Volunteers receive free food and accommodation during the project
On many projects volunteers receive pocket money
Preparation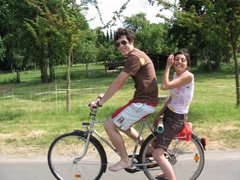 Etienne Corish cyclingOur staff will meet with each volunteer, and together with the volunteer they will organise an appropriate preparation and orientation programme for all aspects of their volunteer project. This includes:
meeting with former long term volunteers
visits to similar projects in their locality
learning the local language of the project
practical issues - insurance, finances, visas, health etc
How to apply
Go to application forms and procedures and follow the simple instructions.