I have very fond memories of the SCI organisation SDI – which later became VSI. My parents Conrad and Dorothea Leser had met in 1949 in an IVS GB workcamp project. They were engaged within 24 hours and married a year later! So it is not surprising that they thought of starting a branch in Dublin, where we lived between 1961 and 1967. My father was a refugee from Nazi Germany in the 30s and my mother was English. They lived in Scotland and then Australia and Ireland, so always enjoyed international friends and groups. My father learned Gaelic and became fluent and suggested the name Seirbhis Deonach Idirnaisiuntan (SDI) as a translation of International Voluntary Service.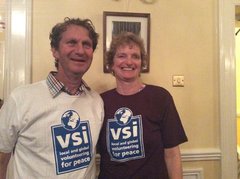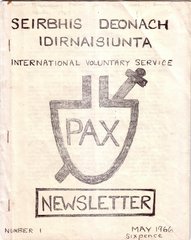 When SDI was set up in 1965 my parents had four children, Victor 11, Joanna 9, Alison 7 and Walter 5. I do not remember the meetings which undoubtedly took place, but some of the key figures became great friends of the family –Gerry Brady, Janet Barcroft, Elizabeth Neuman, Phelim Boyle, Donal Dorcey, and others. All the people involved with SDI were unfailingly kind to us children, and we spend many weekends and holidays helping with activities.
A few stand out – the travellers camp with Grattan Puxton fighting for their rights against the police, and everyone digging trenches around the caravans to prevent them being towed away. I was most envious of the children as I loved horses and they had so many on the site.
There was a school for deaf children, where I first saw signing; there was a hospital for people with severe learning difficulties, which was shocking as some of the residents went for exercise in yards with high wire fences. A fun place was Miss Carr's Home for children, where we could play with the children in the enormous garden, and some almshouses where volunteers decorated the homes. I loved the work camp at the school – I think it was for children with physical difficulties, where international volunteers made a playground, and I met people from all over the world.
SDI certainly had a huge effect on me. I am sure it was the main reason why I went on international work camps aged 17 and 19, and also why I was joined VSO and was an English teacher for 2 years between the ages of 25 and 27. Maybe it is why I am now a social worker… early influences are strong. Sadly my parents have both died, and also my sister Alison, who herself had learning difficulties, but the memories of those days certainly live on for my brothers and me.
It is fantastic that VSI is now celebrating its 50th anniversary, and I hope the next 50 years are as successful and useful.
Joanna Leser