Sowing the Seeds: Seirbhís Deonach Idirnáisiúnta, 1965 1969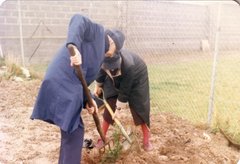 Conrad and Dorothea Leser planting trees at a centre in Waterford for 25th VSI Anniversary
Among the oldest documents in the VSI archives are a series of letters, some handwritten on small pieces of notepaper, others painstakingly typed on foolscap, all dated early 1965. They concern a visit to Ireland by Jef Smyth, who was then vice-chairman of the International Voluntary Service in Great Britain. IVS was set up in 1931, when volunteers built a swimming pool in the economically depressed Welsh mining town of Brynmawr. Among the ranks of volunteers sent overseas by IVS were a handful of Irish citizens, who for various reasons chose to travel and work under the auspices of the British branch of Service Civil International, the worldwide peace organisation that began by rebuilding villages in Verdun in 1920.[1] The purpose of Jef Smyth's visit to Dublin was clear: to see if it would be possible to set up a local branch of SCI in the Republic of Ireland.
Many of the letters are polite replies explaining to him that it would not be possible to meet during his stay. However, one stands out for its lively tone and warm hospitality. The letter, dated January 28th and with an address in Clonskeagh, reads:
We are very interested to hear of your intended visit to Dublin and we would be very pleased to see you and could even put you up quite easily for the weekend unless you now have expense accounts that [illegible] hotel accommodation? You mention the 6th to 7th but we could put you up for the night of the 5th as well if that is any help.
Otherwise I fear we will really be of no help to you at all as of our first three years here we seem to have become immersed in the family life with the 4 children and Conrad with his work and learning Irish. But I am quite sure there is plenty of scope for IVS camps in Ireland. Also a considerable amount of voluntary work is done here as was done in England before the Welfare State.
Do phone us up when you arrive in Dublin and one of us will come and meet you. Please let us know if you should cancel your arrangements to come as we have postponed some weekend arrangements as we would be most willing to meet you and give any help.
The author of this letter was a remarkable woman named Dorothea Leser. She and her husband Conrad moved to Ireland in 1961, when he began work at the Economic Research Institute, which had just been established in Dublin with the help of the Ford Foundation.[2] In 1965, their eldest son Victor was 11 years old, their daughter Joanna was 9, a second daughter, Alison, was 7, and the youngest child, Walter, was 5. In spite of Dorothea's declaration that "we will really be of no help to you at all," the Lesers would play a key role in setting up an Irish branch of SCI, with Dorothea acting as its first international representative, and Conrad assuming the position of Chairman.
Dedicated to peace
The Lesers met at a workcamp in Essex in 1949, and were engaged to be married within a matter of days. Conrad, the elder by ten years, was born in the German city of Heidelbeg in October 1915, and held a D Phil in Economics from the University of Zurich. He arrived in London in the 1930s as a refugee from Nazi Germany, but was nevertheless interned in Canada for a brief period during World War II. Dorothea, who was trained as a teacher, was born in March 1926. She grew up in Britain, but her father was an Australian soldier who was severely disabled after serving in the Boer War and World War I. He spent the rest of his life in a home, while Dorothea became a "charity girl" at various boarding schools after the age of three. Married in 1950, the Lesers lived in Glasgow, Canberra and New York, before moving to Dublin in 1961. Their cosmopolitan background and prior involvement with SCI made them ideal candidates to work on setting up an Irish branch.
The first meeting of the organisation took place at their home in Clonskeagh on February 15th, 1965. Conrad had been studying Irish since his arrival in Dublin – he even wore a fáinne, the gold pin signifying fluency in the Irish language – and proposed that the new organisation be named Seirbhís Deonach Idirnáisiúnta (in later years this would be translated back to English as Voluntary Service International). The very next day, a notice about the organisation appeared in the Evening Press under the headline "Volunteers will help itinerants." This was in response to an invitation from Graham Puxton, Chairman of the Itinerant Settlement Committee – a representative group of the Travelling community – to help clear rubbish and dig sanitation pits at the Cherry Orchard settlement in Ballyfermot. The Leser's daughter Joanna, who was 9 at the time, remembers this as "everyone digging trenches around the caravans to prevent them from being towed away."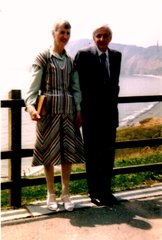 Conrad and Dorothea Leser 1980
Joanna and her sister and brothers were very much part of SDI life in those early months, helping out – and no doubt occasionally getting underfoot – at various projects undertaken by the volunteers. A variety of weekend projects took place in 1965, including laying a new floor at St. Michael's House in Finglas (a centre for children with learning disabilities), preparing a lawn at the Central Remedial Clinic in Goatstown, and clearing a hedge at the Old People's Colony in Sandymount. Two summer workcamps were also arranged that year. One of them involved further construction at St. Michael's House, while the other – the first official workcamp of SDI – was a canal restoration project that took place on the Shannon-Erne Waterway in CountyLeitrim. The camp drew considerable attention on both sides of the border. Indeed, one of the dignitaries who visited the project was Lord Brookeborough, the former Prime Minister of Northern Ireland, who was not known to have set foot in the south since the border was established.
SDI takes root
Jef Smyth's visit to Dublin was not the first attempt to set up a branch of SCI in Ireland. In the early 1960s, the Dutch branch of SCI (known as IVH – Internationale Vrijwillige Hulpdienst) made similar efforts, going so far as to set up a special sub-committee on Ireland. Saar Boerlage, a well-known Dutch activist, wrote that there were two main obstacles to setting up SCI workcamps in the country:
1. The opposition of all purely Roman Catholic organisations which do not trust the IVH as a neutral organisation. This is a pity because we are really willing to cooperate without any hidden intentions. If there ever should be an Irish branch of "Service Civil International", most of its members would have to be of Roman Catholic denomination.
2. The unemployment which causes government and trade unions to be against carrying out projects by voluntary unpaid labour.
A number of Dutch volunteers came to Ireland in the summers of 1961 and 1962 to work on re-forestation in the west of Ireland. This was done together with the Voluntary Labour Service, a local organisation which had as its patron the Bishop of Galway. However, the SCI European Secretariat later discouraged contact with VLS, arguing that "SCI has to a large extent replaced VLS for the execution of a work programme which they were not able to implement by themselves."
Despite facing many of the same challenges, the fledgling organisation set up by the Lesers gradually began to take root in Ireland. There were still concerns about the independence of the group; in an early letter to IVS, Dorothea pointed out that members were still sending their subscriptions to London, causing a dearth in resources for establishing the Dublin organisation. IVS was also recruiting long term volunteers in Ireland, some of whom remained unaware of the existence of the Irish branch. In June 1965, there were three Irish volunteers serving in Mauritius, Algeria and Bechuanaland (later Botswana). The first official SDI newsletter, dated May 1966, contains letters from two of them. Inga Musa, who was in Bechuanaland, wrote:
"The present division of the world into rich and poor countries is in my opinion much more real and much more serious than the division of the world on ideological grounds."
The letter from Enda Byrne, in Mauritius, draws attention to the lighter side of volunteering:
"I broke my foot playing football, my first attempt at fraternising with the local footballers (....) We spent Christmas Day on the beach and had a smashing turkey salad picnic."
SDI also managed to recruit several international volunteers for workcamps in Ireland in summer 1966. The work involved building a football pitch in the town of Castletownbere, West Cork, and carrying out renovations in the Cheshire Home for the disabled in Rathfredagh, County Limerick. The success of the organisation attracted the attention of Michael Viney, the Irish Times columnist, who wrote in 1966 that perhaps it was time for the Irish government to establish a national youth corps, as was the practice in other countries. Referring to the work of SDI and Comhairdeagas, an offshoot of the Union of Students in Ireland, he warned that these were "working models of a kind of activity and a set of motivations which cannot and should not be seen as the prerogative of university students or middle class society."
A lasting legacy
In 1967, the Lesers returned to Britain, as Conrad was appointed Professor of Econometrics at Leeds University. Dorothea ran the local Oxfam shop in Headingley (near Leeds), and eventually become a director of Oxfam in the 1980s. They passed away in 1998 and 2005 respectively. In establishing Seirbhís Deonach Idirnáisiúnta, they had left a lasting legacy in Ireland. After their departure, the SDI committee continued to hold weekly meetings upstairs in Gaj's restaurant on Baggot Street, a location frequented by a mix of republicans, Marxists, feminists and anarchists. Margaret Gaj, who was married to refugee from Poland, was a formidable left-wing activist and a member of SDI. Her restaurant would become the birthplace of the Irish women's liberation movement.[1] Meanwhile, SDI was to gain a more permanent foothold in Dublin when it moved into the basement of the Apothecaries' Hall at 95 Merrion Square in December 1968.
Articles about SDI appeared in a variety of publications in the '60s, from the social column in the Irish Times to the radical magazine Hibernia. The organisation generally drew a favourable response, as it managed to put into practice its motto of "deeds not words." Some of these articles were written by members themselves, and contained an open attempt at recruitment. An article by Janet Barcroft in a women's magazine detailed the practicalities of long term volunteering, summer workcamps in Ireland, Britain and Europe, and weekend projects, concludes:
"So, women of Ireland, perhaps SDI may be of interest to you? You may like the idea of digging and painting alongside that husband, brother or boyfriend. (It's probably you who will drag him along in the first place, anyway!)"
A monthly bulletin called "Service" was issued from April 1968 onwards, containing updates on weekend projects, workcamps, long term volunteering, special social work (including visits to orphanages and a baby-sitting service for mothers of disabled children), fundraising and social activities. It also documents occasional visits to and from the Belfast branch of IVS, against the backdrop of rising political tensions on the island.
Although Joanna Leser describes the earliest SDI members as family friends – she recalls Gerry Brady, Janet Barcroft, Elizabeth Neuman, Phelim Boyle and Donal Dorcey – an organised structure soon developed. A new committee was elected each year at the Annual General Meeting, and membership grew to about a hundred within the first three years. By May 1969, there were four separate weekend groups, headed by Des Doherty, Gay Brocklesby, Jim O'Gorman and Eamon Shaughnessy. The constitution which had been adopted in 1965 was re-crafted in 1969 in response to the political mood affecting the European branches of SCI, and it was generally agreed that "when practical service alone could not bring a project we had undertaken to a successful conclusion, then political pressures and public protests were justifiable and necessary." Under the chairmanship of Des Doherty, a decision was taken to seek full status as a national branch of SCI, and the organisation received its final name change. VSI as we know it was born.