The VSI initiative which sought to challenge the car dominated transport culture in Ireland
'Give Way to Bikes' – a 1978 VSI initiative which sought to collate information on the activity of cycling in Dublin, was essentially an attempt to interrogate and even challenge the car-dominated transport culture in Ireland at that time. A small sample of 74 cyclists were surveyed for the report about the difficulties of being a cyclist on Dublin's roads.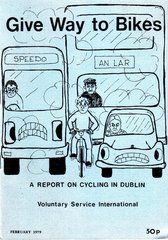 Scope
The initiative was undertaken by VSI volunteers (an international project was held that summer) because while there had previously been a considerable amount of public discussion about the issue of cycling in Dublin and a group of urban cycling advocates had also been active on the subject at the time, VSI felt there was a need to make certain qualified recommendations for cycling to local authorities on the basis of serious study.

The rationale for the study stemmed from the growing concern about the social, economic and environmental implications of heavy reliance on motor transport. Thus the endeavour was very much in line with the organisation's ethos.
Process
On-street interviews of cyclists were conducted by VSI volunteers over a two-week period. Interviewees were asked about their cycling habits, the difficulties they encountered and what improvements they would like to see to help cyclists in Dublin.
A number of spot counts were also conducted to obtain a picture of the number of cyclists commuting in and out of the city during certain hours and to find out along which roads the major concentration of cyclists travelled. A subsequent route survey attempted to identify alternative cycling routes to the main busy road.
Although the study involved only a small sample of interviewees, care was taken to include a good cross-section of age groups at a spread of locations across the city, to maximise the chances of obtaining usable ideas and impressions.
Results


Some suggested improvements arising out of the report were as follows:
- Cycle lanes along the main roads and special parking facilities for bikes
- Pedestrian education
- Increase in bus services to reduce the amount of car traffic in the city
- Improvements to road surfaces to make cycling more pleasant.
Summary:
The report found that there was a pressing need to provide facilities to make cycling safer. The problem of bicycle theft was also highlighted and lock-up facilities were suggested for places like shopping areas, factories, offices and CIE stations. It was also noted that a more vigorous enforcement of vehicle parking regulations was required.
On a more positive note, it was recommended that cycling should be actively promoted as a desirable mode of transport for short journeys, being an environmentally, socially and economically desirable transport system.
After 'Give Way to Bikes'…
The Cyclists Action Group, based out of VSI in the mid 1980's, was formed to campaign for a better deal for Dublin's cyclists.
The group conducted another attitude survey in Dublin in 1984, which covered topics of ongoing concern such as bicycle theft, the importance of cycle lanes, bad road surfaces, inconsiderate motorists and suggestions for overall improvement of the situation for cyclists.
Carmencita Hederman, a community alderman with Dublin Corporation who would go on to become Lord Mayor of Dublin a few years later, was a supporter of the group's cause. Project co-ordinator Gerry Maguire was interviewed by the Evening Herald in the summer of 1984 and he used the opportunity to highlight the attempts of the group to improve the lot of cyclists in the city.
The Dublin Cycling Campaign was eventually formed in 1993 as an independent advocacy group; it continues to campaign for improved conditions for cyclists and greater recognition of the benefits of cycling.
Rita Dolan