March 2, 2023
---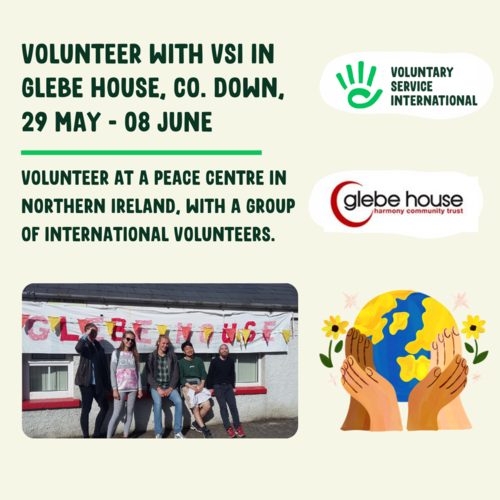 Project Name: Glebe House, Co. Down
Age: 18 - 99
Date: 29 May - 08 June
Description: Glebe House is a residential and Day activity centre, owned by Harmony Community Trust, near Strangford in Northern Ireland. It was partly set up in 1975 by Irish and British members of Service Civil International. Since 1975 Harmony Community Trust has been practically and tenaciously working for a fair, inclusive society that respects and cherishes each person's humanity, dignity, aspirations, ideas and needs. One where each person can determine and re-create their own identity, rather than conform to sectarian, national, ethnic or social stereotypes, myths or stigmas. Glebe House has held annual SCI International Workcamps since 1975.
Type of Work: The volunteers will be tidying and cleaning up the centre, helping to set up and run stalls and prepare activities for the Glebe House Annual Open Day; they will then help to clean up and put things away. There will also be some work on the Community Garden. Local volunteers will assist with all the activities.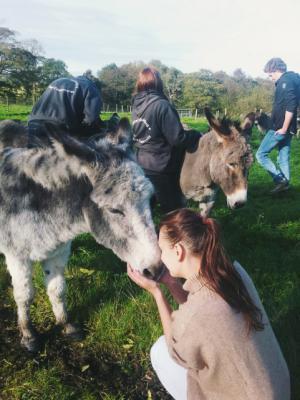 Study Theme: It is planned to hold informal sessions on the following topics: the History and aims of Harmony Community Trust and Glebe House, a potted history of Ireland, The Northern Ireland peace process, and Northern Ireland's future. There will also be opportunities for volunteers to discuss other issues of relevance to themselves.
Accommodation: Volunteers will stay in the accommodation block at Glebe House. Bedding is provided, and volunteers do not need to bring sleeping bags. Volunteers are asked to help with cooking and cleaning tasks. There is free Wi-Fi access at the centre. VSI is not able to provide accommodation before or after the project.
Requirements: Volunteers should bring work clothes, work shoes and gloves.
Approximate Location: Glebe House is situated about 30 miles southeast of Belfast near the village of Strangford in County Down.
Please note: When you click on this link you will leave the VSI website and go to the SCI database, search engine and application pages of SCI (VSI is the Irish branch of SCI). The projects listed on the database are managed by various SCI branches and partners across Europe, so the project titles and descriptions are generally written by non-native English speakers so please excuse us if some of them are hard-to-understand or use unusual language!
Project fees: VSI is a small charity and we charge a fee (€55  - €155) to volunteer on our projects, this includes food, accommodation, insurance whilst on the project and VSI annual membership, more info here.
Some of the descriptions mention an additional fee (of €50.00) when applying through non-SCI organisations. VSI is an SCI branch and these fees are included in the VSI project fee.
If you have any questions at all or would like more info on a project, please contact Annabelle.