April 12, 2023
---
Date: 16 - 28 July
Age: 18 - 99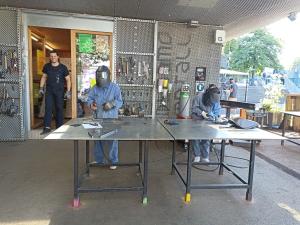 Description: The youth center "Dynamo" is a public place in Zurich that offers possibilities for young people to realise their own projects. Dynamo offers public work areas, meeting rooms and stages for concerts. It is a great place for people interested in art to network and develop new ideas. This summer, SCI Switzerland would like to support local, Zürich based social projects by assisting them with building their projects.
Type of Work: Volunteers will work with various techniques such as woodworking, metalworking, and in general with upcycling and recycling. There are also the possibilities to include textile working or screen-printing into the project. If you already have a specific know-how in one of these techniques, it would be great! Or if you have other ideas or skills to contribute to the project in whatever way, you can let the co-ordinators know. Please be aware that you will not work with local volunteers but always within the SCI volunteer group.
Study Theme: Everything about the youth center "Dynamo" and the project will be presented to the volunteers at the beginning of the week.
Accommodation: The Dynamo provides: 1x mattress per person, 1x fitted sheet per person, washing machine is available; showers and rooms for volunteers are available and can be split by genders, 1x toilet in the residential, more toilets in the main building and working areas, internet available. Volunteers are responsible for food shopping and cooking in the evening. SCI recommend that you limit your meat consumption, so as to contribute to the camp's principle of sustainability. For lunch volunteerswill have food from our restaurant. It is planned to have vegetarian and vegan diet.
Language: Work instructions in basic English will be provided and the campcoordinator will help translating further details to the volunteers if needed. The local language is Swiss German.
Requirements: Do you want to learn more techniques and realize a concrete project in Zürich? You should be ready to be offline during all workshops, working sessions and leisure time activities.
Notes: You will be able to participate in 1-2 excursions around Zurich. Please note that Zurich is rather expensive compared to other places in Switzerland. SCI Switzerland believes that in the current state of pollution and production of waste material, it is necessary to reduce consumption and try to prevent waste from being created: reuse, reduce and recycle.
Please note: When you click on this link you will leave the VSI website and go to the SCI database, search engine and application pages of SCI (VSI is the Irish branch of SCI). The projects listed on the database are managed by various SCI branches and partners across Europe, so the project titles and descriptions are generally written by non-native English speakers so please excuse us if some of them are hard-to-understand or use unusual language!
Project fees: VSI is a small charity and we charge a fee (€55  - €155) to volunteer on our projects, this includes food, accommodation, insurance whilst on the project and VSI annual membership, more info here.
Some of the descriptions mention an additional fee (of €50.00) when applying through non-SCI organisations. VSI is an SCI branch and these fees are included in the VSI project fee.
If you have any questions at all or would like more info on a project, please contact Annabelle.