March 24, 2022
---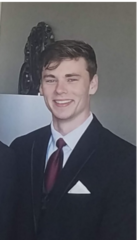 Hello, my name is Aidan Graver. I am an Investment Analyst who focuses on ethical and socially responsible investments for Cantor Fitzgerald, and recent addition to the VSI board, more specifically the finance-subcommittee.
Although I have only recently joined VSI, I have an extensive background in similar organisations in the US where I was born and raised, which has helped align my values with that of VSI. Promoting peace and solidarity has long been something I have always tried my best to promote and pursue, hence pushing me into socially responsible investing and joining VSI.
Throughout my life I have always had a passion for charity. During my years in Highschool, I created and lead a club of 30+ members in delivering baked goods to homeless shelters all across Chicago. I maintained this passion throughout my undergrad, as during summers I worked as an unpaid counsellor at a summer camp in order to mentor and help aid in the development of young children. My passion for charity continues to this day, as I still look to be involved at every chance I get.
I have also been fortunate enough to direct this passion of helping others into a career in finance, where I currently work in socially responsible investing. My position currently allows for me to focus on recommending and researching investments that truly impact the world for the better, whether it be for environmental or social reasons. Working in finance has also led me to better understand FP&A and as well budgeting, something that is pertinent for any member of the finance-subcommittee.
Although I enjoy both charity work and as well my career in finance, I continue to pursue my development by spending my free time studying Mandarin Chinese, as well as competing in various Powerlifting. I look forward to being about of VSI and helping out where I can.