May 15, 2023
---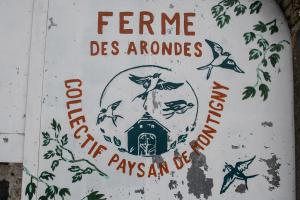 Date: 20 Aug - 02 Sep 2023
Age: 18 - 99
Description: The Ferme des Arondes is a collective farm which is installed between Arbre and Saint-Gérard, in the commune of Profondeville (south of Belgium). Several producers will gradually install their activities (bakery, vegetable garden, mushroom production, ...). Within this farm, the buildings need renovation to be able to host in good conditions festive events, trainings, as well as various educational activities.
Type of Work: The volunteers will work mainly inside the building and there will be also some work in the fields. In the farmhouse the work will consist in ecological renovation of different rooms. Outside : maintenance of hedges, pruning of fruit trees, creation of fences, creation of postsigns and beautification of the farm.
Study Theme: Protection of the environment. Presentation of the innovative project of a farm taken over by several farmers (collective farm) and its transition to agro-ecology (sustainable agriculture, sale in short circuit,...).
Accommodation: Accommodation will be inside a building at the farm grounds, in common rooms on the floor. Basic conditions: one bathroom and one toilet in the building, dry toilets and solar showers also outside. The farm is quite isolated, there is no internet, no TV. The next village with a bakery, Bioul, is 40 minutes away on foot. Volunteers will spend the evenings together at the farm. Some bicycles will be available on workcamp site. Food for cooking will be provided on site and volunteers will cook most of the time - at the farm there is a fully equipped kitchen. The food will be vegetarian.
Language: French and English.
Requirements: For volunteers who like being in the countryside and working manually. The place is quiet and a bit remote from the surrounding villages. It is therefore conducive to walks, moments of relaxation, disconnection and calm evenings.
Approximate Location: Ferme des Arondes is located between Arbre and Saint-Gérard, in the commune of Profondeville, south of Belgium