Voluntary Service International is the Irish branch of Service Civil International, a worldwide peace movement started in 1920 in the aftermath of the First World War. Voluntary Service International was founded in 1965 after several projects in the late '50s. Since then VSI has undertaken a wide variety of voluntary and community work throughout Ireland and has sent volunteers to similar projects in over 70 countries worldwide.
VSI is a membership organisation and all of our current programmes - International Volunteer Projects Programme, the Africa Asia Latin America Programme, the Teenage Programme, the Long Term Volunteering Programme & the Dublin Local Group Programme - are run by working groups made up of volunteers, supported by the VSI staff team. Our Annual General Meeting (usually held in November) elects a National Committee from the membership to oversee the work of the organisation from year to year.
VSI is a registered charity: CHY 9220. VSI is registered as a limited company, no. 140520, having no share capital.
Read the VSI Annual Report 2009 here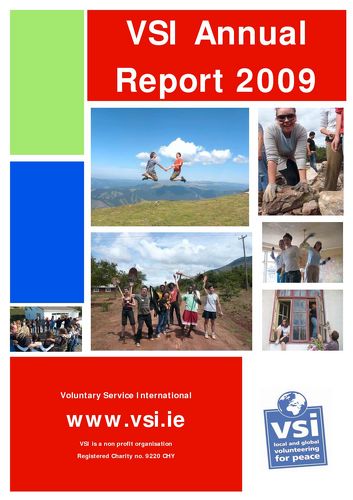 Cover image for Annual Report 2009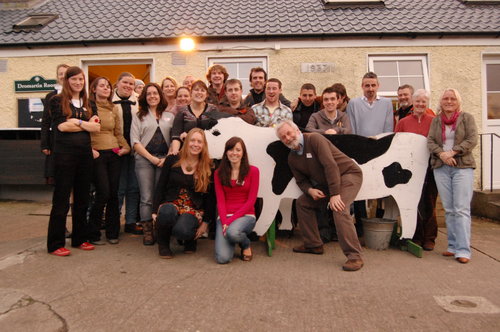 Volunteers at VSI AGM 2008
Affiliations
VSI is a member of:
Mission Statement
OUR VISION - is a world of peace, social justice and sustainable development, where all people live together with mutual respect.
OUR MISSION - is to promote peace, social justice, sustainable development and intercultural understanding through volunteering in Ireland and internationally.
OUR VALUES - We base all our work on the following values
Volunteering - in the sense of acting out of self-initiative, without seeking material reward and for the benefit of civil society, as a method and a statement for social change, whilst never competing with paid labour nor seeking to contribute to strike-breaking
Non-violence – as a principle and a method
Human Rights – respect for individuals as stated in the universal declaration of Human Rights
Solidarity – international solidarity for a more just world and solidarity between human beings at all levels
Respect for the Environment – and the ecosystem of which we are a part and upon which we are dependent
Inclusion - to be open and inclusive to all individuals who share the aims and objectives of the movement, without regard to gender, race, colour, religion, nationality, social status, sexual orientation and ability
Empowerment – empowering people to understand and act to transform the social, cultural and economic structures that affect their lives at all levels
Co-operation – with local communities as well as other local, national and international actors to strengthen the positive potential within civil society as a whole
Contact Details
Voluntary Service International
30 Mountjoy Square
Dublin 1
Tel: 01-8551011
Fax: 01-8551012
Email: info@vsi.ie
Funding Organisations
VSI acknowledge the funding support of the National Development Plan through Department of Education and Science.
VSI acknowledge the funding support of Irish Aid towards the Africa Asia Latin America Programme.