Start date: August 2019
Duration: 12 months
Programme: European Voluntary Service (EVS)/ European Solidarity Corps (ESC) (age group: 18-30)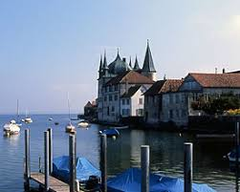 We are looking for a young person from Ireland to join this project starting in August for 12 months.
About the organization
The Läbesschuel / School of Life, a project within the community of Schloss Glarisegg, started in August 2016 with 15 children, in 2019 we had 37 children registered. There is a Waldkindergarten for children from 4 up to 5 years old and then there is 1st to 9th class (from 6 until 16 years old). Volunteers will be able to participate in all the different classes if they wish.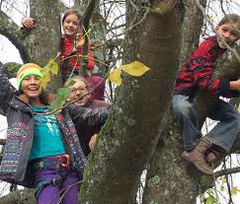 Volunteer's role
Main activity within the EVS is to support accompanying the children in their learning journey. All the activities take place at Schloss Glarisegg community. We have different places within the community, we sometimes work outside (forest, beach, neighbour farm or garden), sometimes in the 'Montessori' room, other times in the main school building where we have a kitchen, a workshop, a library, a technic room and a main room. The smallest children are mostly spending their time in the forest. One day a week, the children go to Mammern (neighbouring village) by bicycle to do sports in the gym of the local school. As a volunteer in this project you will meet, cook together and even live in the same flat as the other 2 volunteers from Schloss Glarisegg. You will attend the same weekly community circle and have the possibility to have a closer look at the other's project.
Training during the project
You will learn a lot about non formal education, for example also working with emotions and the body. The team of the school will help you to discover your competencies and strengths. You will be given opportunities to choose and/or propose activities that you would like to do with the children. You will also be able to learn more about technical tools from different pedagogies. During the time when the children are not in school, you'll be able to work on your own project, developing your own personal tools. The team will be present to help you to find out about the goals and means of your project. It could be a particular subject that you would like to deepen.
Requirements
Participants must be able to live and work in a remotely located ecological, spiritual and open community of all ages and cultures. They must live in a shared bedroom and agree to live in accordance with our common grounds (http://www.schweibenalp.ch/en/vision-2 ).
This project is funded by the EU and standard EVS rules apply. You will receive free accommodation (at a host family), food, insurance and monthly 'pocket money'. Bus passes will be arranged. During the Summer Schools mini-buses will collect volunteers and children.
Application
If you would like to apply for this project please send your CV and letter of motivation , highlighting your inspiration to volunteer on this project. Please send both documents to Mateja in VSI, mateja@vsi.ie and use 'School of Life ' in the subject of the e-mail along with stating this is the applied for program in the email. Skype interviews will begin after deadline.
Deadline for application: 31/5/19
If you would like more info on this or any other EVS projects please contact Mateja in VSI mateja@vsi.ie

The European Voluntary Service (EVS)/ European Solidarity Corps (ESC) is an EU funded programme that gives young people (aged 18 to 30) the opportunity to volunteer in an organisation abroad. The funding covers travel expenses to and from the project as well as accommodation, food, a small personal allowance ("pocket money"), insurance, language training and local transport during the project.