International Volunteer Projects in the Middle East, North Africa
All of our in-person 2020-2021 IVPs have been cancelled due to COVID-19 pandemic. Details below are provided just for information purposes.
Peace in the Middle East remains one of the major challenges to be solved for the international community today. After years of Intifada, peace agreements and ongoing occupation, young people are the part of the population most affected by the stalemate. International Volunteer Projects are a way to express solidarity and transmit hope, energy and creativity for young people to construct their citizenship under difficult circumstances through day-by-day co-operation among people of different backgrounds.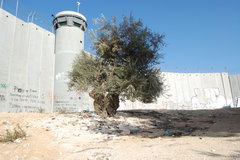 The Wall - today's reality in Palestine
How do I find a project? Projects can be found on the Project Search Engine
How do I apply for a project? Go to application forms and procedures and follow the simple instructions.
Who can take part? The projects in the Middle East and North Africa are open to experienced volunteers over 20. All volunteers will undergo preparation e.g. attending a workshop; briefing by staff/experienced volunteers. SCI cooperates with partner organisations in Israel, Jordan, Palestine, Morocco and Tunisia.
Being part of an international group:
The volunteer group will be made up of international volunteers and volunteers from the host organisation.
Conditions: Conditions on the projects can be basic.
Leisure and free time: There is usually a study theme to each project and volunteers should prepare themselves to contribute to the discussions. There is a lot of interaction with the local community where the project is based including teaching in schools, family visits, visits to local places of historic or scenic interest etc. Bring a musical instrument, a deck of cards, chess set etc.
Costs - No Fundraising Needed; Free food and accommodation are provided on the individual projects.
Volunteers have to cover travel to the country and internal travel to/from the projects. Volunteers have to take out a comprehensive insurance policy and have to cover visa fees (if any).
Volunteers pay a programme fee of € 190 waged; €155 unwaged for projects in 1 country to VSI. More details
Some partner organisations of VSI charge an extra fee which the volunteer will have to pay on arrival. This will be stated in the project description.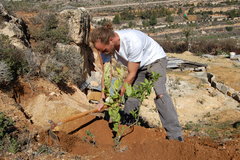 Planting olive trees in Palestine
Practical: Volunteers travel to the city/town where the host organisation is based (usually the capital city). After orientation they will travel together with other international and local volunteers to the project site.
Preparation: We organise a comprehensive preparation, orientation and briefing programme for participants. Volunteers intending to take part in the programme must join in our Preparation/Briefing Programme. Contact the office or see our website for further details.
Volunteer stories from the Middle East Programme