European Voluntary Service
Would you like to volunteer in a fully-funded volunteer programme in Europe for up to 12 months?                                                                  

Erasmus symbol
The European Voluntary Service Programme (EVS) is an EU funded programme for 18-30 year olds. The programme funds travel, accommodation, food and pocket money as well as preparation, on-arrival training and personal support during the project. Volunteering opportunities are available from 2 to 12 months (shorter periods and extra financial support are available for those with extra support needs e.g. those who have a disability and unemployed people).
You can search the EVS project database and contact the hosting organsiation abroad yourself, if you need support with this VSI can help. 
If you would like to discuss the programme, have any questions or would like to join our long-term mailing list please contact Helen: helen@vsi.ie  
The programme works by helping volunteers to make contact with accredited hosting organisations. Organisations select the volunteers that they would like to host on the basis of the interest that the volunteer brings to the project. You are not expected to have qualifications in any particular area and you cannot be excluded because you don't have such a qualification. In the end, however, the organisation will select the volunteer(s) it will work with so it is important to select project that you are genuinely interested in. You should also take care to make it clear to potential hosts that you are very interested in their work and would like to contribute to the organisation.
View the Database of EVS Projects
The EU publishes a database with information on all the organisations that are accredited for EVS. Each organisation is presented through a short description, its motivation and EVS experience, the themes of work and contact details. It also informs if the organisation offers possibilities for young people with fewer oppportunities. Important: Please be aware that the database is very large and often projects registered on it may not be currently seeking volunteers.
VSI is a recognised sending organisation under the EVS scheme. There are quarterly deadlines for funding applications and the process usually takes several months as it requires the volunteer, the hosting and the sending organisation to jointly submit an application for funding.
Interested?
View detailed information on what is EVS and how to apply (Word document).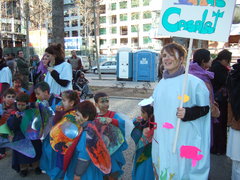 Antonia Karpova, VSI EVS Volunteer with a childrens projects in Barcelona.
Terms and Conditions
Travel costs, food and accommodation, pocket money, insurance provided by the EU.
We ask volunteers to become a member of VSI.
Preparation
Our staff will meet with each volunteer, and together with the volunteer they will organise an appropriate preparation and orientation programme for all aspects of their volunteer project. This includes:
meeting with former long term volunteers
visits to similar projects in their locality
learning the local language of the project
practical issues - insurance, finances, visas, health etc
In addition, EVS Volunteers join in pre-departure and on-arrival training in the country they are going to.
How to Apply for EVS Projects
To apply for EVS, contact the VSI office.
Volunteer stories from the Long Term Volunteer & European Voluntary Service Programmes