Killarney National Park
Help with Woodland Conservation
In the oldest Irish National Park

@Photos by Eliška šestáková, Belén Albor, Peter O'Toole
Since 2012, VSI has played a pivotal role in the fight against rhododendron in Killarney National Park through holding four, two-week summer volunteer projects annually. These summer projects attract volunteers from all over the world who are interested in this immensely important conservation work. Along with Conservation Rangers, including Peter O'Toole and Tim Cahalane, volunteers have used a variety of methods to help control the highly invasive and destructive Rhododendron ponticum. Volunteers have the opportunity to live within Killarney National Park itself, and work with a team to preserve natural Irish beauty.
This project offers volunteers an exciting opportunity to experience working in an extensive number of areas across the park while making a vital contribution to the conservation of key woodland habitats.
Dates of the Killarney NP projects for the season 2020:
     1st project: 14.06. - 27.06.
     2nd project: 05.07. - 18.07.
     3rd project: 02.08. - 15.08.
     4th project: 16.08. - 29.08.

Would you like to join our volunteers during the summer 2020? Just fill in our Killarney VSI Volunteer Projects Application Form online or email us if you need more information!
* Please note you can only apply to VSI if you live in Ireland. If you are an international volunteer who would like to come to Ireland, you have to apply to the SCI branch or partner organisation in your country.
Project details
Project theme: Environment protection
Description: In the 19th century the rhododendron tree/bush (Rhododendron ponticum) was introduced and this has proved to be a highly invasive and destructive tree and has threatened to colonise large areas of the park. The rhododendron is threatening the bio diversity of the park and many native species of trees, shrubs, mosses are under threat.
Type of work: Volunteers will work on rhododendron control in remote areas of the park. This can involve stem treating mature plants with small tools, the picking of seedlings and cutting of saplings. National Park uses sharp tools (hatchets, loppers and secateurs) and a herbicide (diluted solution) as part of their strategy to control the rhododendron plants. The volunteers will be required to use these methods. Full training on the safe use of these methods and safety equipment will be provided by National Park.
Accommodation & food: In a modern hostel in the National Park itself. Dormitory style bedrooms; please bring your sleeping bag and a pillowcase. There are kitchen facilities in the hostel, food ingredients will be provided and the volunteers will share in the domestic duties of cooking and cleaning on a rota basis.
Requirements: The project work is based outdoors and a substantial amount of time might be spent walking through mountain and forest areas each day. Volunteers need to be prepared to work outdoors in various weather conditions. As the terrain is quite difficult and tough, volunteers need to be fit enough to handle this. For example there could be up to a 60 minute uphill walk to the worksite over rough ground.
Notes: The midge fly is widespread in the park as well as ticks so volunteers must be prepared to use an insect repellent and wear a protective net when working. The park will provide nets, gloves and rubber boots. Volunteers are also required to wear long sleeves and trousers while working.
Total number of volunteers needed: 14
VSI is a voluntary, non-profit organisation. In order to sustain our work, we need to charge our volunteers a Project Fee. 
| | | |
| --- | --- | --- |
| VSI Project Fee | Waged | Unwaged/student |
| Projects in Ireland | €85 | €55 |
The fee covers:
Administration costs involved in your placement
Your participation in the volunteer pre-departure training before the project and evaluation workshop afterwards
Health insurance while taking part in the project
Membership of VSI for one year
Our volunteer projects have the following key features:
Food and accommodation are free
Leisure and free time can be enjoyed after the day's work and during the weekends
You can read about the project fees on our website here.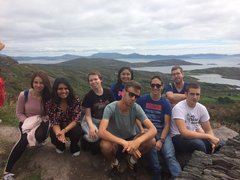 Would you like to…
develop team management and refine your leadership skills?
experience an amazing adventure with a group of international volunteers (18+)?
contribute to building understanding among people from different cultures and nationalities?
You should consider being a Volunteer Project Coordinator for our Killarney project!
The Coordinator's role involves volunteering with a group of Irish and international volunteers in Killarney National Park for 2 weeks during the summer. The Project Coordinator will help volunteers settle in, organise the group on a daily basis, support good group dynamics, promote intercultural exchange and help organise free-time activities as well as educate volunteers on VSI's values and topics such as environmental protection through non-formal education methods. VSI provides trainning before and support during and after the project. Coordination of a project with accommodation, food and travel expenses to and from the volunteering site is covered (within Ireland).
Requirements for Project Coordinators:
Over 21
Have some volunteering experience
Good communication and organisation skills
Budgeting skills
Enthusiasm and positive attitude
Experience of working with international groups or running workshops would be useful as well as knowledge and some experience in youth work or the voluntary and community sector.
To apply fill out the Killarney VSI Coordinator Application form online or email us if have any questions or you need more information!
For further information of the park please continue here or contact info@vsi.ie. You can also watch a short video of our volunteers in Killarney National Park filmed by Eco Eye:
Or read about recent experience of our volunteers from VSI Killarney projects on our website here, here and here!