Volunteers' life on an International Volunteer Project (IVP)
If this is your first project, you might have a few questions and ideas about what to expect. We will try to give you a picture of a typical IVP journey.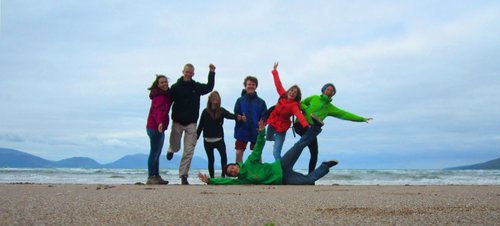 First of all, you have to know that every project is different. There aren't two projects that are quite much the same and that is because ALL OF YOU are different and living different experiences. 
Try to imagine joining a group of 10 to 16 people, of which everyone comes from a different part of the world with different beliefs and different lifestyles, but with similar aspirations: to share the time together, to exchange their cultures, learn from each other and to carry out the project work. 
You might sleep in a tent in a forest or in a hotel room in the city centre, but you could also sleep in a tent in the city centre or in a hotel room in the middle of the forest! There are so many different accommodation possibilities, it is entirely up to you to decide whether you want to apply for a project during which you will sleep in a hay barn. 
On most of the IVPs, ready-to-eat food isn´t provided, the volunteer group has to prepare the food by themselves, which means sharing shopping, cooking and cleaning duties! But don´t worry, even if you only know how to peel potatoes, that´s already a very useful skill! However, if you wish to share your culture and traditions, don´t hesitate to bring recipes, some special spices or ingredients to impress the group with your meal :) 
When it comes to language, English will be the common language. Don´t worry if you have no knowledge in the project host-country's language. You might be able to brag about your new language skills after your project. 
The work will last for up to 7 hours a day, depending on the project. Some will require you to be physically fit because you'll be rebuilding parts of an old castle or creating forest pathways. For some it will be helpful if you're a good animator or communicator because you'll be working with children, others will require some organisational skill so that you can help set up a festival or organise other events… 
The project will be managed by one or two project coordinators. They are there to help you settle in, strengthen the group cohesion, and ensure that the project runs smoothly, but, their role isn´t to give you a turnkey project. In the IVP setting YOU, as a volunteer, have to make your contribution to the project. Share, listen, learn, work and have some craic. Bring some ideas, wishes, and activities for free time! 
To manage and create an amazing experience, one needs to rely on two main aspects: motivation and a good mood! If you challenge yourself a little bit, open your mind and consider how enjoyable the project can be, you´ll manage to get over potential little disagreements and immerse yourself into the intercultural experience! And you'll probably leave the project with unforgettable memories and having made some lifelong friendships.

The last advice is: You have decided to apply for an intercultural project in a foreign country and, as everything in life, you might have some fears or doubts, but it will definitely bring you lots of joy, surprises, opportunities and awareness of different issues the world is dealing with. That is why you applied, to learn and to make the world a little better. So just grab your backpack and go for an outstanding experience!