Application Forms/Procedures
If you are normally resident in Ireland or Northern Ireland, you can apply for any of our projects and for VSI Membership. If you are living elsewhere, please contact a branch or partner organisation in your country.
International Volunteer Projects (IVP) – Short-term
Short-term International Volunteer Project Application Form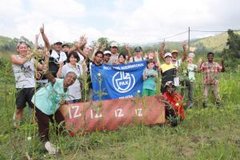 IVP Application Procedures
VSI views participation in an International Volunteer Project as part of a process which includes application, preparation, participation and evaluation.
Complete all parts of the application form. – Please include additional choices in case your first choice is full.
Pay your project fee when you apply. Your fee includes membership of VSI for one year.  More details on project fees and costs 
Please note, we cannot process your application for an International Volunteer Project until we receive payment.
VSI will inform you by email when you are accepted on a project or if there are no vacancies, usually this will be within a week.
The Project Information Sheet, which includes more info on the project you are going to including travel directions, will be sent to you at least 4 weeks before the project starts.
Cancellations and Refunds
If you have to cancel your application, please let us know immediately. Once placed on a project, you will not be entitled to a refund of your project fee, apart from in exceptional cases. However, if we are unable to place you on a project, we will refund your project fee (minus your VSI membership fee), you will remain a member of VSI for one year.
Joint Applications
If you would like to apply with a friend, please send your applications together with a note of explanation, including whether or not you would accept separate places. Although we will do our best to find places together, we cannot guarantee it.
Pre-departure Training
You will be invited to Pre-departure Training which will give you practical advice and information on what to bring, insurance etc. as well as more details about what to expect on your Volunteer Project including your role and benefit of the projects, guidelines for participation etc.
Evaluation Workshop
You will be invited to an Evaluation Workshop in the autumn (or following completion of your project) where you will be given the chance to meet other volunteers and to talk about your volunteering experiences - both positive and negative ones. You will also discover details of other activities and opportunities to get involved in with VSI.
European Solidarity Corps (ESC)
European Solidarity Corps  Application Form.
Learn more about ESC volunteering here
Membership of VSI
VSI Membership Application Form
Please note: Volunteers working with children, young people and vulnerable adults
Volunteers wishing to work on projects with or around children, young people or vulnerable adults will need to provide two references and a self-signed declaration form confirming the absence of a criminal record. They may also be asked to complete and sign a Garda (Police) Vetting Form. Child and Vulnerable Adult Protection Training will be provided for volunteers working on these projects.