International Volunteer Projects in Africa, Asia and Latin America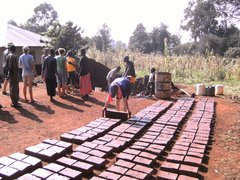 Making bricks at a school classroom building project, Kenya 2009
All of our in-person 2020-2021 IVPs have been cancelled due to COVID-19 pandemic. Details below are provided just for information purposes.
The International Volunteer Projects in Africa, Asia and Latin America are part of a Development Education programme. The programme enables people to gain an insight and understanding of development issues facing people and countries of the developing world by participating in short term International Volunteer Projects, of practical benefit to local communities.
The Programme is made up of four elements: Preparation, Projects, Evaluation and Using your experience.
We encourage volunteers to join in 2 or 3 short term projects during their 2 month stay in a developing country, as well as visiting other development and community projects. However, it is also possible to join an individual project.
Africa: Botswana, Burkina Faso, Ghana, Kenya, Lesotho, Morocco, Nigeria, Senegal, Sierra Leone, Tanzania, Togo, Tunisia, Uganda, Zambia, Zimbabwe.

Asia: Bangladesh, Cambodia, India, Indonesia, Malaysia, Mongolia, Nepal, Sri Lanka, Thailand, Vietnam.

Latin America: Brazil, Bolivia, Colombia, Ecuador, El Salvador, Guatemala, Mexico, Nicaragua, Peru.
What kind of projects?
The Projects are organised by local voluntary work organisations and involve teams of local and international volunteers helping:
to build extra classrooms onto a local school
to renovate a rural health centre
to plant trees and other environmental projects
to make play facilities at a centre for children with disabilities
How do I apply for a project? Go to application forms and procedures and follow the simple instructions.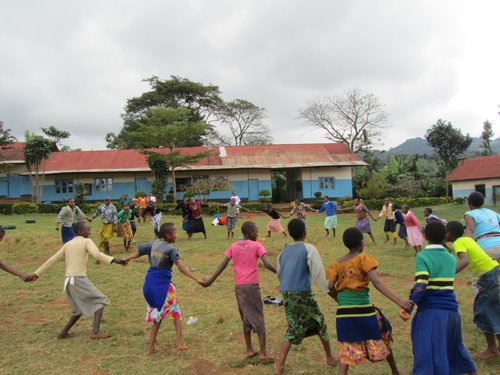 Playing games after school at the Mwika project summer 2013
---
Who can take part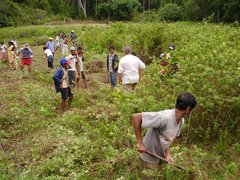 Villagers and volunteers work together on an environmental project in Sri Lanka, Summer 2008The programme is open to volunteers over 20 years of age with previous volunteering experience.
Costs - No Fundraising Needed!
Free food and accommodation is provided while on the individual projects. Projects are mostly held in rural areas and conditions on the projects can be basic e.g. no electricity; no running water etc.
Volunteers have to cover travel to the country and internal travel to/from the projects.
Volunteers have to take out a comprehensive insurance policy. Volunteers have to cover visa fees (if any).
Volunteers pay a programme fee of € 190 waged; €155 unwaged for projects in 1 country to VSI. More details
Most partner organisations of VSI charge an extra fee which the volunteer will have to pay on arrival. This will be stated in the project description.
For projects in French Speaking Africa: In addition you will have to complete a French language application form which we will send to you.
For projects in Latin America: In addition you will have to complete a Spanish language application form which we will send to you.
Preparation
We organise a comprehensive preparation and orientation programme/briefing for participants.
Contact the office for more details.
VSI are sigantories to the Comhlámh Code of Good Practice (CoGP).
Volunteer stories from the Africa, Asia and Latin America Programme