DEADLINE: 31ST JULY!!! Join the VSI office team! Call for Marketing and Communications Officer and Programmes Officer long-term volunteers
27 Jul 2022


Do you want to be part of an international organisation that promotes peace, solidarity, social justice, sustainable development and intercultural understanding? Do you want to gain valuable experience in the volunteering, youth and development sectors in Ireland?
VSI is now welcoming applications for the following roles funded through the European Solidarity Corps programme: Programmes Officer and Marketing and Communications Officer. We are looking for two volunteers (aged 18 to 30 and resident in Ireland) to join our team from September 05 2022 for a period of 12 months.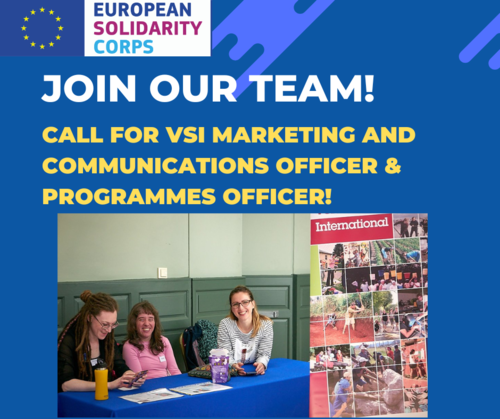 What is an ESC volunteer placement?
The European Solidarity Corps (ESC) volunteering programme gives young people (18-30 years old) the opportunity to volunteer either in their own country or abroad. It is an initiative of the European Union and offers an inspiring and empowering experience for those interested in making a change and benefiting communities across Europe. The programme aims to develop solidarity, intercultural understanding and respect among young people and to promote active citizenship.
These two ESC roles in VSI are 'in-country' projects, so the participants must be currently resident in Ireland.
A monthly allowance for living expenses will be provided plus insurance and mentoring support for the volunteer's personal and professional development. If required, financial 'Inclusion Support' to enable young people with fewer opportunities to take part will also be provided – if you would like to speak with someone privately for more info about this please contact Aine in VSI: aine@vsi.ie
About VSI
Voluntary Service International (VSI) is the Irish branch of Service Civil International (SCI), a worldwide peace movement founded after the First World War. We are a volunteer-based movement, founded in 1965 and headquartered in Dublin.
For over 55 years we have promoted peace, social justice and sustainable development at home and abroad through volunteering. By bringing together people from across the globe to participate in values-based volunteering, we aim to increase awareness and understanding of the people, the societies and the environment around us. This deeper understanding will contribute to a global and local society which is more open-minded, aware and responsible for its own behaviour and actions. We are able to do this with the help of our network partner organisations at home and abroad, enabling volunteering experiences that promote peace, social justice and sustainable development.
For more information about our organisation, please see:
2021 - 2025 VSI Strategic Plan
The ESC volunteers will work in supportive roles with the VSI staff team.
For more information on the role responsibilities for the Marketing and Communications Officer, please see here.
For more information on the role responsibilities for the Programmes Officer, please see here.
Training 
Training will be provided where appropriate, this may include international training opportunities and seminars. 
Supervision 
Both ESC volunteers will report to VSI's Programmes Coordinator (PC) with whom they will work closely and meet regularly. The ESC volunteers will write regular reports as agreed with the PC and VSI CEO.   
Hours and Leave:
35 hours per week. 
Office hours are from 9.00am – 5.00pm. It is possible that some activities that the volunteer will attend will take place in the evenings and at weekends, time in lieu will be allocated to cover this. 
Annual leave equivalent to 2 days per month of the ESC project (24 days annually) plus national Irish holidays. 
Location:
The VSI Office is located in Carmichael Centre for nonprofits, near Smithfield Square. The staff team currently work 2-3 days in the office per week, and work remotely for the rest of the week. Volunteers will be asked to work from the office for a minimum of two days a week and will have the option of remote working on other days.
To Apply:
Please complete our VSI ESC Google Application Form here
Application deadline: 31 July 2022
Shortlisting will apply. Online interviews will be held in August.
Start date is: 05 September 2022
Enquiries to aine@vsi.ie