Senka's Presentation at the CRC
28 Jun 2022
Last week our in-office European Solidarity Corps volunteers, Senka and Eiméar traveled to the Central Remedial Clinic. Here, they gave a presentation on Serbia, Senka's ESC volunteering journey and the volunteering opportunities which are available through VSI. Senka has shared her thoughts on the experience. Here's what she had to say!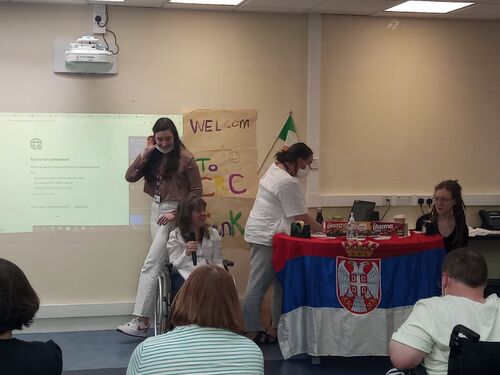 "Last Friday, June 24th, I visited the Central Remedial Clinic in Clontarf, Dublin. I had a really nice welcome there by Mary Carlyon, community link officer for the organization.
My presentation was divided into 3 different parts: I talked about my country, where I'm coming from, and about my ESC experience with VSI. At the end, colleague. Eimear, and I were talking about future volunteering opportunities for long-term and short-term projects. At the very end we got a chance to discuss the topics and questions which were raised during the presentation.

The atmosphere there was very good and friendly. People were happy to hear my story as somebody who's coming from another country. Also, we had a very good discussion about Serbia, as well as about some disability issues and how these are resolved in Ireland and in Serbia. For me, the highlight of the day was at the very beginning when I asked the group what they heard of Serbia so far, and somebody said that Serbia had won the Eurovision song contest in 2007. I have already prepared the song, and everybody loved it. I also brought some Serbian sweets for the people at the CRC to try.

Also, we presented volunteering opportunities that are open to people, including youth, adults and the disabled. It was good to see that people are interested in taking part in these opportunities.
I am Looking forward to hear their stories and how they liked it."