VSI Attends the Global Citizen Awards Ceremony
17 May 2022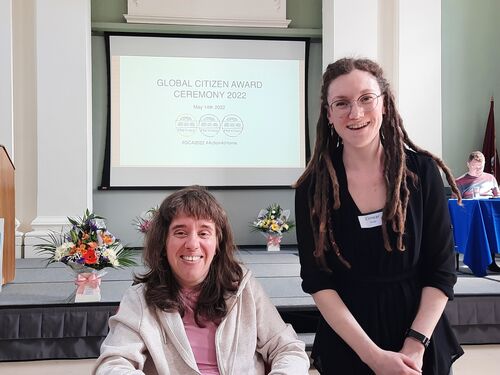 Last Saturday, VSI staff members, Eimear and Senka, attended the Global Citizen Awards ceremony in the Law Society of Ireland, Dublin. As the ceremony was postponed for two years due to the COVID-19 pandemic, overseas volunteers who returned to Ireland in 2020, 2021 and 2022 received their awards on this very special occasion.
The staff were honoured to be present while the volunteers marked their achievements by collecting their awards, with some of them very kindly sharing their volunteer stories with attendees. It was both inspiring and heart-warming to hear their tales of volunteering. From learning about local cultures and customs, to witnessing the impact of our everyday decisions on peoples livelihoods, to realising the importance of supporting local communities, and seeing firsthand where what we buy comes from. Those who received awards spoke about the impact their volunteering had on them and how it had changed them in immeasurable ways.
The VSI staff team want to congratulate all the volunteers who received awards at the ceremony, including those who weren't able to attend. Your efforts are commendable and long may your volunteer journey continue!