European Solidarity Corps opportunity with SCI Catalunya
13 Apr 2022
European Solidarity Corps opportunity with SCI Catalunya
SCI Catalunya is looking for European Solidarity Corps (ESC) (age 18-30 only) volunteers to volunteer in their offices (fluency in Spanish essential)
Project Dates: 01 October 2022- 30 September 2023  
Application Deadline: 16/05/2022 
Location: Barcelona, Spain 
Topic:  Solidarity, culture, peace 
Work Types: Office and project work 
Volunteers needed: 2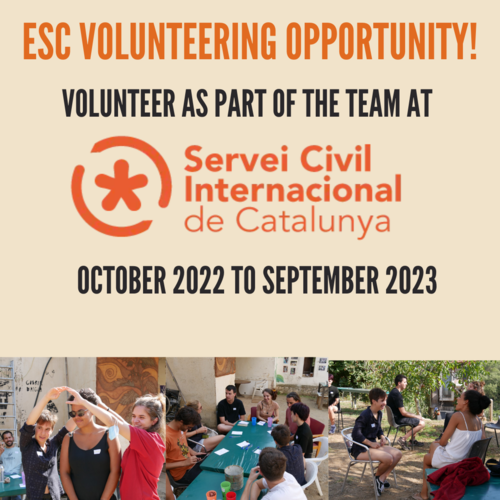 Project Description: SCI Catalunya (SCI-CAT) is the Catalonian branch of SCI (VSI is the Irish branch!). Like VSI, SCI-CAT works to promote peace and social justice from an international perspective through volunteering. They are a small but very active and dynamic organization: every year, they organize around 10 local projects, where almost 150 volunteers from other countries are placed and hosted. They also send and support around 300 local volunteers to projects abroad, and select and prepare volunteers for medium and long-term volunteering projects, International Youth Exchanges, and international seminars and training. Last but not least, they coordinate various groups of local volunteers and arrange awareness-raising activities.
Tasks description: The ESC volunteer will give support mostly in the volunteering area of SCI-Catalunya, working as a Volunteer Placement Officer. Their main tasks will be: giving information to local people who want to participate in projects, collecting and sending their application forms and keeping in contact with the project host associations. They will also give information about other volunteering opportunities, such as Long Term Volunteering or ESC. During the summer, the volunteer will have the opportunity to directly participate in a local project. The ESC volunteer is expected to work 6 hours per day, 5 days per week. 
Requirements: The volunteer must be fluent both in Spanish and English, and have excellent writing skills. Basic knowledge of Catalan is also valued, but is not compulsory. The volunteer will be asked to learn Catalan during their stay, as it will be the main language in the office as well as during the activities organized with and for local volunteers. Highly valued skills are: flexibility, sense of responsibility, initiative, and teamwork. Previous experience in other SCI branches, projects, youth exchanges, or international training will be advantageous but are not essential. 
Accommodation and Food: As with all ESC projects, the volunteer will receive free accommodation, food, insurance and a small personal allowance. Travel expenses are also covered (you might only have to pay very small part of those expenses if they exceed the budget) as well as support for language learning.
There are no fees to participate or apply for this project.
Requirements: 
Willingness to participate for the entire duration. 
This is a European Solidarity Corps (ESC) project and all ESC conditions apply. Please go to VSI's ESC pages to read about the programme.
For more information and details on how to apply, please contact Eimear, VSI's Programmes Officer.