SCI Germany- "Hear with your eyes, see with your ears" - memories of female concentration camp survivors
29 Mar 2022
SCI Germany are looking for volunteers to take part in their work and study opportunity, focused on collecting the stories of female Ravensbrück Concentration camp survivors
Project Dates: 01 Aug 2022- 05 Aug 2022
Topic: Antiracism, antifascism, remembrance
Special Topics: Climate for Peace Programme
Work Types: Study, discussion, research
Volunteers needed: 2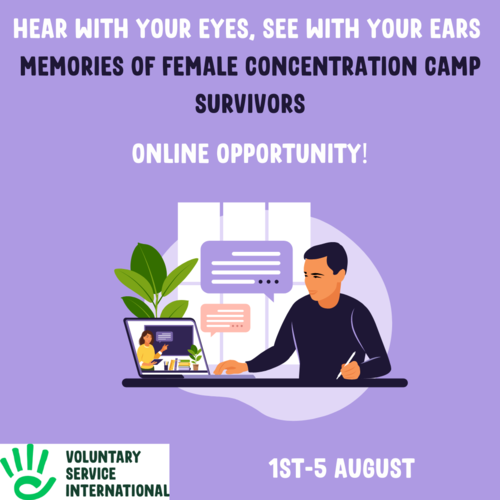 Description: In this work- and study opportunity, you will to meet other volunteers online and will work together on video interviews of women from different countries who survived the Ravensbrück women's concentration camp and were willing to share their memories. Ravensbrück existed from 1939-1945, more than 120,000 women from at least 40 countries were imprisoned there. Tens of thousands of people did not survive. Today there are only a few sources from the camp period, so interviews with survivors are of great importance for the memorial. Your support and commitment to prepare for and carry out these interviews is strongly needed. The Online-Camp will be organized by our long-standing project partner, the Ravensbrück Memorial, north of Berlin.
Type of Work: Using selected video interviews, you will "hear with your eyes, see with your ears" by also exploring aspects like the survivors' the body-language and tone of voice. You will have the opportunity to train yourself in biographical work and to develop your own perspectives and at the same time get to know the history of Ravensbrück concentration camp. Depending on your individual skills, you can prepare video interviews or contribute to the historical-biographical work of the memorial with translations and research.
Study Theme: History, Remembrance, Solidarity, Community, Gender
Accommodation: The online meetings with the group take place five days a week (Mon-Fri) in the afternoon (German time). The exact timetable will be fixed with the project group. Further meetings for joint activities, small group work or similar can be arranged with the group.
Language: Good knowledge of English is required.
Availability: Please note that there is limited availability for online projects, so we allocate these places on a first come, first served basis.
Requirements:
Willingness to participate reliably for the entire duration (5 days)
Knowledge of the usual office programs necessary. Knowledge of transcription tools would be great but is not necessary
Sensitivity to the topic of remembrance, interest in different historical perspectives and cultures of remembrance
You'll need a laptop (smartphones or tablets won't work) and a good internet connection that works with video calls for the project.
You need to be a member of VSI to participate in this project. If you're not yet a member, it's easy to sign up - you can read more here, complete the membership form and pay your membership (€20 for unwaged individuals, €40 for waged individuals). If you want to participate in one of our online projects but you are unable to pay the VSI membership fee, please let VSI know in confidence by emailing programmes@vsi.ie so we can help you to take part in the project.
You'll need to send a motivation statement (just 2-3 sentences) to programmes@vsi.ie stating why you are interested in joining the project as well as confirming your availability to participate throughout the whole project.
Finally, you'll need to fill out the application form below: