SCI Germany- Children and Youth in Forced Labour during World War II
19 Jan 2022
SCI Germany are looking for volunteers to take part in their Children and Youth in Forced Labour during World War II - Online project with Gestapokeller and Augustaschacht Memorials.
Project Dates: 15th February to 26th of February 2022
Volunteers Needed: 2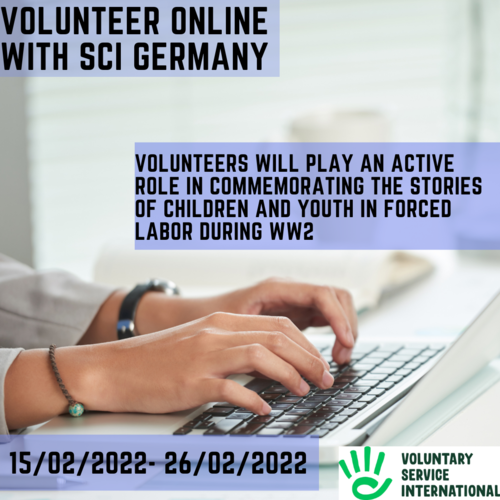 Description: Support the work of the Augustaschacht memorial in making visible and remembering the stories of forced labor of children and young people during the Second World War.
Four afternoons a week, you will meet online with international volunteers. With professional guidance, you will get to know the memorials and historical sites. In workshops you will learn about biography work. Based on selected biographies, you will learn about children and young people who were forced to work in Nazi Germany. In addition to the group meetings, you will work individually or in small teams according to your skills on research, translation or transcription.
Another focus is on community and strong group cohesion among the volunteers. You are welcome to bring in own activities for the group!
Time Commitment: 4 Afternoons per week. Time commitment of 12 days, including 8 fixed days and times for group meetings.
Type of Work: Volunteers will work together online to prepare the story of a young forced laborer in the Osnabrück region.
According to your abilities, you will transcribe text fragments of a biographical interview with a former forced laborer, help with translations where possible, put the fragments together, put them in relation with historical context which you researched, and thus, together with the group, jointly trace the biography of this person in order to preserve it for the future. The joint volunteer project will be included in the memorial's exhibition and thus serve further documentary and educational purposes.
The joint volunteer project will be included in the memorial's exhibition and thus serve further documentary and educational purposes.
Study Theme: History, Remembrance, Solidarity, Community, Children.
Using concrete examples, you will deal with forced labor and Nazi history as well as their causes and consequences. This year, the focus is on children and young people who experienced war and the Holocaust in the more than 500 forced labor camps controlled by the Gestapo in the Osnabrück region.
You will take part in digital guided tours of historical sites, including the Augustaschacht and Gestapokeller memorials and their permanent and special exhibitions. You will learn about biographical work in professionally guided workshops.
Language: English (Russian or Ukrainian is an advantage, but not required)
Notes: Please bring sensitivity for the topic of memorials and an interest in historical reappraisal and different perspectives. In addition to the study and work parts, the international online format offers an opportunity for exchange about different historical perspectives and cultures of remembrance and for understanding today's challenges. You can expand your language skills and make contacts with people in other places. Your own ideas enrich the project. Don't be shy and get involved with your creativity!
Availability: Please note that there is limited availability for online projects, so we allocate these places on a first come, first served basis.
Anyone can join the study camp and we expect that there will be free places available for Irish volunteers, but priority will be given to German, Russian, Ukrainian nationalities and for people who have residency in these countries.
Requirements:
You'll need a laptop (smartphones or tablets won't work) and a good internet connection that works with video calls for the project. Knowledge of Microsoft office necessary, knowledge of transcription tools is a bonus
Willingness to participate reliably for the entire duration
Sensitivity to the topic of remembrance, interest in different historical perspectives and cultures of remembrance
You need to be a member of VSI to participate in this project. If you're not yet a member, it's easy to sign up - you can read more here, complete the membership form and pay your membership (€20 for unwaged individuals, €40 for waged individuals). If you want to participate in one of our online projects but you are unable to pay the VSI membership fee, please let VSI know in confidence by emailing programmes@vsi.ie so we can help you to take part in the project.
You'll need to send a motivation statement (just 2-3 sentences) to programmes@vsi.ie stating why you are interested in joining the project as well as confirming your availability to participate throughout the whole project.
Finally, you'll need to fill out the application form below: