Volunteer Online With "Friends of Ireland" Vietnam!
18 Nov 2021
Teach English Conversation Classes Online with "Friends of Ireland" Vietnam!
*This project is now full*
Project dates:
2021-2022 (Flexible, ASAP)
Volunteers needed: 5
Topic: Education, interculturalism, solidarity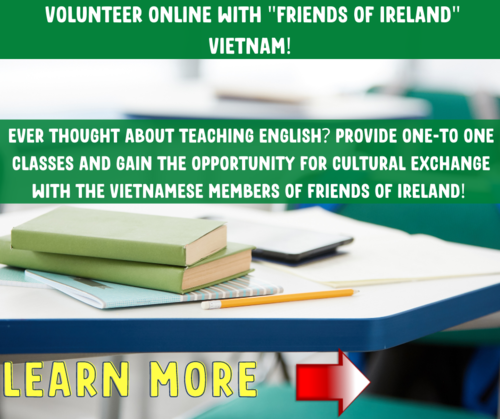 Introduction:
"Friends of Ireland" is a group of volunteers who run various activities to promote Irish culture, education and connections between Ireland and Vietnam. This provides you with the opportunity to Engage in international volunteering and to make friends in other countries, all from the comfort of your own home. The organisation is currently looking for volunteers to develop the spoken English skills of their Vietnamese members. Volunteers do not need previous experience, so we encourage everyone to apply!
Description
Volunteers must commit to hosting at least one hour long 1 to 1 spoken English lesson per week over Zoom, the time of which is flexible and is designed to work around your schedule. Volunteers for Peace, Vietnam, will assist you in finding a Vietnamese volunteer who is best suited to your availability.
Through these sessions, volunteers will have the opportunity to:
Make a positive change in the lives of others through education.
Become a part of a wider online volunteering community.
Make new friends in Vietnam.
Experience teaching conversational English online.
Receive a certificate from Volunteers for Peace Vietnam (if requested).
Time Commitment: Volunteers must commit to a minimum of two months. During this time, they must provide at least one English lesson per week, the hours of which are flexible. Volunteers have the option to schedule more classes if they want.
English: Good English language skills are required.
Availability: This project is ongoing and regularly requires volunteers.
Requirements:
You do not need to be a member of VSI to participate in this project. If you are interested in keeping up to date with VSI's news and updates click here to learn about our mailing list.
You'll need a laptop, camera and microphone and good internet connection for the project.
Participants must be resident in Ireland and over 18 years of age and must commit to a minimum of 2 months of classes.
Finally, you'll need to fill out the application form below: