Glebe House is back with an IVP this September!
30 Jun 2021
*Applications for this project are now closed*
Celebrate the 90th Anniversary of IVS-GB by volunteering with Glebe House!
Project dates: 1st September 2021 - 8th September 2021
Topic: 90th Anniversary of IVS-GB (SCI's branch in Britain), Glebe House, Community Relations, Environmental, Practical work and Northern Ireland Politics.
Type of work: Practical work, Environmental
Number of volunteers needed: 10 Max
Language: English
We are promoting this project to volunteers from Ireland and Britain only due to COVID restrictions.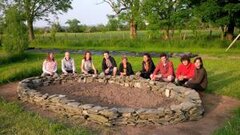 Description:
Glebe House is a residential and Day activity centre, owned by Harmony Community Trust, near to Strangford in Northern Ireland.
It was partly set up in 1975 by Irish and British members of Service Civil International. Since 1975 Harmony Community Trust / Glebe House has been working for a fair, inclusive society that respects and cherishes each person's humanity, dignity, aspirations, ideas and needs. One where each person can determine and re-create their own identity, rather than conform to sectarian, national, ethnic or social stereotypes, myths or stigmas.
Type of Work:
Because of Covid 19 the organisers of the project have reduced the time scale to a one-week project. The volunteers will help carry out a number of tasks around the centre after Glebe House's summer programme with children.
The work will involve general maintenance around the Glebe House Centre, including work on the gardens and the wildlife play areas, fruit harvesting and general painting and repairs.
Volunteers should bring work clothes, work shoes and gloves.
No children will be present during the workcamp but they may have some older people's groups in for day activities.
It is planned to hold a special 90th celebration event on Saturday 4th September with invited guests to commemorate the work of International Voluntary Service.
Study Theme:
It is planned to have some informal discussions during the volunteer project on the following topics:
The History and aims of Harmony Community Trust and Glebe House
A potted history of Ireland
The Northern Ireland peace process
100 years of Northern Ireland, Brexit and beyond
90 years of IVS UK
Accommodation:
Full board accommodation and all food will be provided, volunteers do not need to bring sleeping bags. Volunteers will have separate bedrooms.
There is Wi-Fi access at the centre. The volunteers will have access to washing machines. Volunteers will have the chance to help with cooking meals.
Travel Arrangements:
The volunteers should try to arrive in Strangford village for 3.00pm on the first day (Wednesday 1st September) where they will be collected and brought to Glebe House, unless they have their own transport when they may arrive any time that day.
Apply
To apply please please fill in this Google Form.
If you have any queries, please contact Aine at ivp@vsi.ie
COVID-19:
To the best of our ability all covid 19 safety measures will be taken to ensure everyone's safety. Glebe House asks any volunteers showing any signs of COVID-19 before the camp, not to come.
We look forward to seeing you at Glebe House!