'Online Youth Voices: How inclusive is your community?' Workshop
9 Mar 2021
WHAT WAS IT ABOUT?
On 2 March VSI, in collaboration with SCI Hellas in Greece and Liberties College in Dublin, facilitated an online workshop called 'Online Youth Voices: How inclusive is your community?'
The workshop was designed with the aim of creating an intercultural exchange for young people in Ireland and in Greece to come together as an online community of learners and learn about inclusion, solidarity and intercultural understanding and build upon their intercultural competencies with people from different regions of the world.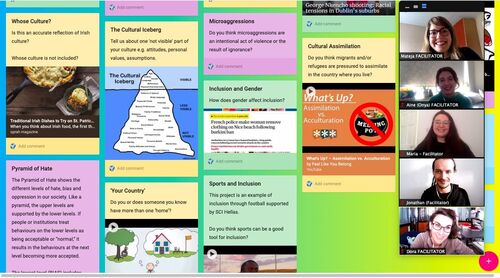 WHAT HAPPENED?
37 participants attended the online workshop.
During the workshop we arranged a Padlet Silent Exhibition and a Jamboard poster-making session.At the end of the workshop we wanted to celebrate the participants' fantastic contributions and their participation in the workshop by giving them Certificates of Achievement that outlined all the key intercultural competencies they acquired throughout the day.
Check out here some of the amazing contributions made by them in the Padlet Silent Exhibition!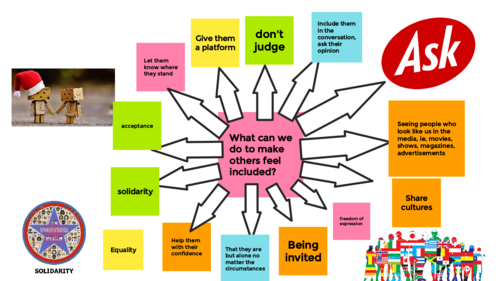 One example of a group's Jamboard poster.
Our workshop was included in SCI's visibility campaign 100 Actions for Peace that celebrates SCI's 100 anniversary by gathering different actions that work towards peace. Check out the post here!