Online Project: Female Perspectives on Police Brutality and Forced Labour in World War II
5 Jan 2021
*This project is now full*
Project Dates: 26 February to 12 March 2021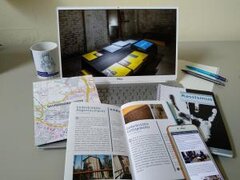 Hosting Organisation Support Fee: 30.00 Euro
Description: In SCI Germany's 2nd online work and study project with Augustaschacht Memorial near Osnabrück, Germany, volunteers have the opportunity to make visible the stories of the often forgotten millions of forced labourers and the hundreds of thousands of prisoners of Labour Education Camps during WW II. This time, volunteers will deal with female perspectives on forced labour and Nazi history and their causes and consequences. By working with a selected biography, the volunteers will contribute to historical-biographical work for educational purposes. They will take part in virtual tours at historical sites, learn about interviewing, transcription and analysis techniques, and have the opportunity to interact with other international volunteers online and to exchange different historical perspectives.
Type of Work: The volunteers work together online to prepare the story of a female forced labourer in the Osnabrück region. They each write text fragments of a biographical interview with a former female forced labourer, help with translations where possible, put the fragments together, put them in relation with historical context which they researched, and thus jointly trace the biography of this person in order to preserve it for the future. The joint project of the volunteers will be included in the memorial's exhibition and thus serve further documentary and educational purposes.
Study Theme: Until the end of WWII, over 30,000 forced labourers worked in the Osnabrück region and had to live in more than 500 forced labour camps. More than one third was from Ukraine, Belarus and Russia. They were monitored by the Gestapo. On multiple occasions, forced labourers were sent to labour education camps where they were forced to work under worst conditions and systematically poor care. Many lost their lives in Gestapo custody. Their punishment served as a deterrent for other forced labourers. Further research is to be done on the fate of female forced labourers in the Osnabrück region.
Online Platform: Volunteers meet online on Zoom and will use other different online tools for our group work. We might also set up a telegram group if all volunteers agree.
Language: Good written & spoken English skills; knowledge of Ukrainian or Russian for transcription work is an advantage, but not a precondition.
Requirements:
Stable internet connection and tablet/computer/smartphone;
Willingness to work online for several hours a day for two weeks and to participate in digital meetings every week day and on one Saturday (27.02.2021);
Knowledge of the usual office software (experience with transcription software highly appreciated).
Sensitivity for the memorial theme and interest in different historical perspectives and cultures of remembrance.