New reading sessions "Words About Deeds"
14 Sep 2020
Do you want to be part of the SCI history reading club?
Sign up now and save the dates of the 4 sessions: Sundays September 20th, September 27th, October 4th and October 11th  at 12 pm Paris time (11 am Dublin time).
Please register before Friday, 18th September, 7pm! There are still a few open places in the Reading Club - for all Service Civil International (SCI) and Coordinating Committee for International Voluntary Service (CCIVS) activists who want to know more about our amazing history.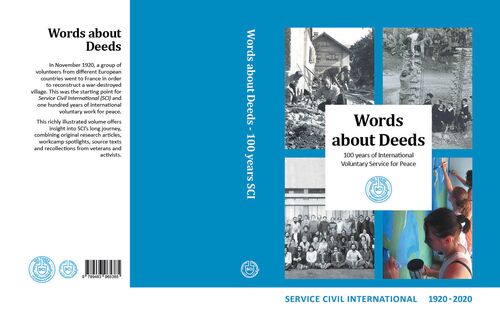 2020 is the year that we commemorate the 100 anniversary of SCI by the whole International Voluntary Service (IVS) movement. Not only to look back, also to learn from the past and look forward. In 1920 a first peace initiative was set up by the founder of SCI. Pierre Ceresole, which we now consider as the beginning of the International Volunteer Project (workcamp) and international voluntary service model.
Unfortunately, many planned activities couldn't take place this year, but still many people have engaged and made it possible to carry out several on- and offline activities. One major project was the publication of the book "Words about Deeds". Put together by a group of volunteers who dived into the SCI Archives to research about the history of SCI. They also contacted a whole group of resource people to compile articles about the way International Volunteer Projects (workcamps) and organisations have been developing over the last 100 years. This book is a real resource for the movement.
To create a common space to reflect on the history of the nternational Volunteer Projects (workcamps) movement CCIVS is launching the "Words about Deeds" reading club. During 4 online sessions we will explore the developments of workcamps and workcamp organisations in different regions such as Eastern Europe, Africa and Asia. Before each session a relevant article from the book is shared in pdf format. Each session is moderated by an experienced facilitator and an expert on the subject. The participants will share their reflections and with the help of the expert more insight in the topic is gained.
Of course you can buy the book, but the articles that will be discussed will also be sendt to you by e-mail .
This initiative is possible thanks to the contribution of the several volunteers: Heinz Gabathuler from the SCI archives, Marilou from SCI 2020 team, Gianni Orsini (former CCVIS president) and Nigel Watt (former CCIVS director).
Don't miss this opportunity and reserve your spot!  

The provisional programme:

All sessions will take place from 11:00 - 12:30 (Dublin time).

| | | |
| --- | --- | --- |
| Date | Theme | Articles numbers |
| 20th of Sept 2020 | The beginning of IVS | 101-104-105 |
| 27th of Sept 2020 | Africa | 211-212-308 |
| 4th of Oct 2020 | Europe (East-West) | 303-401-402 |
| 11th of Oct 2020 | Asia | 109-205-206-210 |