Online volunteer project and workshops: Being LGBTQ+ in 2020
11 Jun 2020
Volunteer on an International Volunteer Project online, from your home!
Join the "Being LGBTQ+ in 2020: the undervalued consequences" project
From 24th to 26th June 2020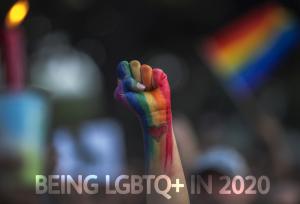 Type and topic of volunteering: Online / Peace / Gender&Sexuality / Social / Study, discussion, research
Places available: 12
Description:  Promoting peace within society and mutual understanding is one of the focus of the SCI movement. As part of defending human rights, SCI Belgium organised this study project with the aim to explore and deepen the knowledge (and possible misconceptions) about the LGBTQ+ community, considering aspects that most of the times are ignored (such as mental health) in favor of others; this project aims at providing a different lens to look at the LGBTQ+ community and its societal issues, possibly by enhancing different conceptions related to cultures in order to achieve a fuller understanding.
Rather than merely studying the subject, the focus of work is to deepen one's knowledge by a collective reflection and exchange of ideas; the whole project is split into three workshops, each one addressing a specific topic: the first one will introduce the birth of the umbrella term LGBTQ+ and will further debate about the need of having such a term to define queer people; the second will focus on the role of patriarchy and its consequences within the queer community; lastly, the third workshop will focus on mental health issues and disparities among queer and non-queer people; apart from a possible action at the end of the project, the project will be entirely online.
Study Theme: LGBTQ+ culture and misconceptions;
Language: English
Requirements: A laptop (or a tablet) with good internet connection ; quiet environment ; interest and passion towards the subject can be a plus when it comes to sharing information from different countries, however people with basic knowledge are welcome too! It is therefore essential to have mutual respect among the participants and willing to be open-mindeded to respect each other's opinion.
Notes: In order to make the study project as enjoyable as possible, active participation, as well as thoughts and ideas, are kindly asked to promote exchange and create a group dynamic.
The workshops will start at 3 pm CET and will end approximately at 6 pm CET: if the time is the only issue that stops you from participating, feel free to get in touch with VSI and we'll contact the organisers in order to try and arrange a time schedule suitable for the most participants.