Long-Term Volunteering with Stanton Home in Massachusetts, United States
10 Jun 2019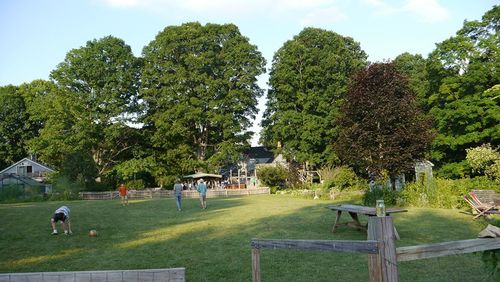 Great chance to learn life skills and make a difference through volunteer work at the Stanton Home located in Great Barrington, Massachusetts, United States. The duration of the volunteering is 3 months and the admissions are on a rolling basis. There are still 5 vacancies left.
If interested please contact your local SCI organization found in the following link: http: //www.sciint.org/contact-us/local-sci-branch-or-partner
Additionally, the organization's website is the following: https://stantonhome.org/
The organization and volunteering details are found below:
Stanton Home has been providing care for people with special needs since 1986. Our main house is located in Great Barrington MA in an old farmhouse and
is surrounded by flower gardens, an organic vegetable garden, a weavery and a working farm. We have 6 houses where the residents and volunteers reside. We currently have a total of 13 residents, from 12-15 volunteers from all over the world as well as full and part-time staff. We believe that the most important
thing in life is relationships.
Work:
Volunteers form the team that run the day to day operations of the Stanton Home household. This will include individual people care, housework and odd jobs. Volunteers are expected to take initiative and responsibility, to manage their time and involvement so that the people with special needs are safe, healthy and well cared for while the daily work gets done. Everyone is treated with respect and appreciation. The volunteers focus is on encouraging those with special needs to do what they can to the best of their abilities.
Requirements:
An openness, willingness to work together collectively as well as independently, must speak at least intermediate English and a valid drivers license required.
Food: Provided - We emphasize local, fresh and when possible organic.
Accommodation: private or shared bedroom, shared bath.
Pocket money: None
Insurance: VOLUNTEERS MUST HAVE APPROPRIATE HEALTH INSURANCE, ARRANGED EITHER THROUGH THE SCI SENDING ORGANISATION OR INDEPENDENTLY.
Fees: None
Visa: SCI will provide documents for Visa
Others: English tutoring is available locally.