Join this unique film-making project in Slovenia!
5 Jun 2019
30 Aug – 09 Sep 2019
Kranj, Slovenia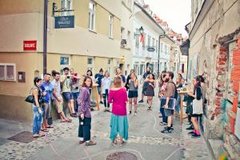 If you're interested in film and photography – Film Mixer Camp is an amazing volunteering opportunity for you! Join other young artists, analogue photographers and creative people from around the world and learn about using forgotten film techniques in an innovative way. 
Participants will take part in developing a stop motion movie about France Štiglic, one of the most important Slovenian film directors – the only one whose movie was nominated for an Oscar. In the cultural district of Kranj city, which was France's home town, volunteers will help to raise awareness about films and try to represent long forgotten techniques in a new, inventive way.
The project will be a part of Film Mixer film festival organised by Layer House arts and cultural centre who also run an artist-in-residency programme. Volunteers will take part in workshops, making camera obscura and photo exhibitions, making a short animated film using stop motion technique, artistic interventions, researching Štiglic's film heritage and representing local cultural heritage.
Practicalities:
Project fees and costs: VSI Project Fee: €150 waged / €105 unwaged  +  travel expenses.
Food, accommodation and basic health insurance provided for the project duration.
Accommodation: Layer House Painters' house in shared rooms. The volutneers will be organised in two rooms with 10 beds and 1 kitchen. The volunteers will share cooking and cleaning.
Requirements: Highly motivated individuals with a sense of self‐initiative, especially with creative work, and with a high interest in photography, film and analogue film techniques.
Additional info: Volunteers are welcome to share their film and video knowledge, organise their own workshops etc. Bringing own video and photo equipment is desired.