Environmental protection in Killarney National Park 2018
11 Jun 2018
Would you like to spend 2 weeks in one of the most beautiful national parks in Ireland?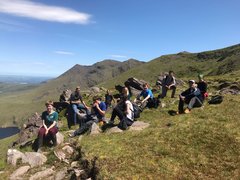 Join our project on environmental protection in Killarney National Park meet other national and international volunteers and spend a fortnight in the park!
Together with the park ranger, a team of 12 national, and international volunteers of all ages (+18) and backgrounds and 2 project coordinators work on woodland conservation in wild areas of the park. Evenings and weekends are free to explore the surroundings and breathtaking landscapes.
Project dates:
Killarney National Park  1 July - 14 July
Killarney National Park  29 July - 11 August
Killarney National Park  12 August - 25 August
Volunteer Support:  Food and accommodation is provided.
There are no specific skills required. Interest in environmental issues desired, as well as open-mindedness and willingness to learn from new cultures.
Want to find out more? Check out this short video of last year's volunteers and park ranger explaining how their work contributes to preserve natural biodiversity in the park for RTÉ's series Eco Eye.
We are looking forward to your application!
You can apply online or email us and we will send you an application form.
Please note that VSI is a voluntary, non-profit organisation. In order to sustain our work, we need to charge our volunteers a Project Fee. The fee for Killarney National Park project is €50 for unwaged volunteers and €75 for waged volunteers.
What does this fee include?
The administration costs involved in your placement
Basic SCI/VSI Insurance policy during the project
Food and accommodation while on the project
Membership of VSI for one year (as a member of VSI, you will receive regular news bulletins keeping you up to date with VSI news, events and volunteer opportunities both within and outside of VSI)
Participation at the VSI Preparation Workshops for volunteers and Evaluation Workshop on your return
Back up and support at all stages of your volunteer project
What's not included?
Volunteers have to cover travel expenses to/from the projects.
For more information, please contact Eliška at ivp@vsi.ie or give us a ring at +353 1 855 1011.