Volunteers needed for project in Greece!
18 May 2018
Happy children - Happy youth camps are looking for an Irish volunteer to join a project in Greece starting on 29th of June till 25th of July 2018!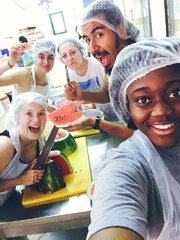 Happy Children - Happy Youth Camps, a non-profit volunteers' organization with 86 years of experience, is looking for volunteers to help the Camp staff in hosting 140 disadvantaged children, including children of migrant and refugee families as well as unaccompanied minors.
The main tasks are preparing meals and cleaning the kitchen. There will also be cleaning, painting and garden work to help prepare for the children's arrival). Optional activities include organizing and assisting in the activities with the children for example sports, handicrafts, group activities, games and music. 
Volunteers will have the opportunity to learn about social and educational support to children as well as traditional Greek shadow theatre, handicrafts, Greek dance and other creative activities as well as learning some Greek language.
Volunteers can visit Elefsina, Athens and nearby archaeological sites on the free days.  
Please note, no alcohol or drugs are allowed at Happy Children-Happy Youth Camps.
Volunteers must be 18-35 years old.
Find out more and apply here!