EVS vacancy in VSI: Placement Officer
30 Jan 2018
VSI is now welcoming applications for the Placement Officer role in our office in Dublin. We are looking for an international volunteer to join our team from early May 2018 for a period of 8 months (until December 2018).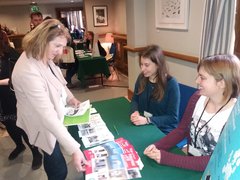 About the project
Through our International Volunteer Programme (IVP) VSI contributes to peace, social and intercultural understanding and encourages young people to become more active citizens.  The focus of this EVS position is to promote VSI's volunteering and non-formal educational opportunities through digital technologies and face-to-face communication. The overall purpose is to encourage young people to participate in VSI's programmes to promote their engagement with the concepts and ideas of peace, solidarity, social justice, intercultural understanding, development education and active citizenship.
This project offers the EVS volunteer opportunities for personal and social development, to have an intercultural experience and to gain through informal learning; experience and skills that can be critical in her/his professional career.
The volunteer will experience volunteering in an international NGO and non-formal learning methodologies. S/he will bring a further intercultural element to VSI and the EVS project will encourage young people that we work with to explore international opportunities such as EVS, through contact with the EVS volunteer.
The project will increase the volunteer's awareness of peace, solidarity, social justice, intercultural understanding, development education and active citizenship.  The volunteer will meet lots of young people from different backgrounds as well as people of all generations through for example meeting the host organizations and VSI members.
The EVS volunteer will be offered opportunities to learn new skills and meet people from different cultures and religions and learn to recognize and develop their own skills and talents.
The volunteer will be based in the VSI office in Dublin and will travel in Ireland and internationally as necessary. General office hours are Monday to Friday 9.00 – 17.00 (35 hour week) with some evening and weekend hours.  
Volunteer's role
Overall purpose of the Placement Officer:  
To support the implementation of the VSI International Volunteer Projects (IVP) and Long-term Volunteering (LTV) programmes in cooperation with the programme Coordinators, committee and the VSI CEO.
The EVS volunteer will be involved in volunteer recruitment, administration of volunteer placements, supporting volunteers during volunteer projects while abroad and in Ireland, supporting short-term volunteer projects and hosts in Ireland. The volunteer will support the preparation and evaluation of volunteers and projects. The volunteer will also support VSI staff and other volunteers on marketing and information giving, contributing to VSI's social media presence and also in non-formal education on peace issues and development education.
The main duties of the Placement Officer include:
- supporting the Volunteer Programme Coordinator in preparation, implementation and evaluation of the programmes and support of the volunteer members of the IVP Committee;
- processing incoming and outgoing volunteer applications (with the VSI Administrator) and supporting volunteers through all stages of their involvement with VSI (application, preparation, volunteering projects, evaluation, follow-up);
- supporting host organisations and volunteers in Ireland pre, during and post projects, this involves visiting the projects around Ireland;
- supporting the Volunteer Programme Coordinator in peace education and raising awareness on peace issues through non-formal and informal education sessions, e.g. holding presentations and talks young people;
- liaising with VSI's international branches and partner organisations;
- marketing & promotion: this includes attending events, participating in promotional and publicity activities, representing VSI at volunteer fairs, etc.;
- contributing to VSI's social media as appropriate;
- responding to enquiries to VSI (phone, email, social media, callers to office).
General
In cooperation with the staff team:
- assisting with other VSI activities e.g. Annual General Meeting;
- assisting in office related duties with other staff members as appropriate, this includes answering general enquiries;
- attending staff and other meetings as appropriate.
Training
Training will be provided where appropriate.
Supervision
The VSI Placement Officer is responsible to the Volunteer Programme Coordinator with whom s/he will meet regularly. The EVS volunteer will write regular reports as agreed with the VSI CEO.  
Volunteers' profile
This project would suit someone with:
- an interest in peace, solidarity, social justice, intercultural understanding, development education and active citizenship; and 
- a good level of English.
Accommodation
The volunteer will live in a shared flat in Dublin.
Application
If you are interested in this project, please fill in the application form and send it to projects@vsi.ie by 15th February 2018. Please indicate the name of the project you are applying for on the subject of the e-mail.