Volunteers needed for Glebe House Northern Ireland summer programme
11 May 2016
Volunteers needed for Glebe House Childrens Centre, Strangford, Northern Ireland - Summer 2016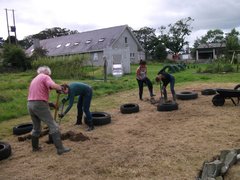 Glebe House Residential Centre near Downpatrick, Northern Ireland is now recruiting Volunteers for its Summer 2016 Children's holiday programmes, placements are available starting from mid June until end of August 2016.
We are looking for people, who are interested in working closely with children and young people on our Summer residential programme.
The Summer programme begins in mid June and runs until 31st August, and consists of 10, one week children's residential holiday programmes. The volunteers will not be expected to take part in all of the residentials and will be allocated time off as necessary.
Volunteers can stay for part or all of the period.
These posts are geared to the needs of the Glebe House community relations programme and the volunteers will be fully involved in every aspect of it, organising and joining in games sessions, going on trips out, taking part in and running on site activities. The volunteers will also share responsibilities for, childcare, supervision and the associated routines of running the children's residential holidays.
Volunteers should be willing to work full time, in a residential capacity at our Centre in Strangford, Co Down, Northern Ireland.
The volunteers do not need to have any previous experience but do need to be well motivated and willing to learn, they should have the ability to cope well under the sometimes hectic and very busy programmes that Glebe House provides.
All volunteers must:
- be over 18 years old
- can speak English to an acceptable degree
- applications through VSI Ireland - info@vsi.ie