2 EVS Volunteers Required for Albanian Projects
12 May 2015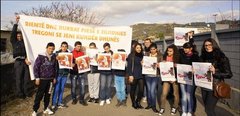 Voluntary Service International is seeking two volunteers, between 18-30 years old, to work with our partner organisation 'Projekte Vullnetare Nderkombetare' (PVN) based in Tirana, the capital of Albania, for 12 months starting on 1 July 2015.
Since political and economic changes in Albania in the early 1990s internal migration has developed with more than 20% of the population migrating from rural areas. This project focusses on human rights education with young people, most of whom are internal migrants. The volunteers will work on raising their awareness on human rights and interculturalism, using non-formal education methods. The volunteers will also promote a cultural centre to the young people.
Training in non-formal education methods and Albanian language training will be provided to the volunteers.
This is fantastic opportunity for the volunteers to develop skills in human rights education and youth work. It is also an opportunity to fully immerse yourself in another culture, learn a new language, meet new people and to increase your employability.
Travel and visa costs, accommodation (in a shared apartment), living allowance, pocket money, language training and insurance are all provided. The volunteers will have a supervisor and will receive social and personal support in Albania.
These roles are part of the European Voluntary Service (EVS) programme which is funded by the European Commission. VSI is an accredited EVS sending organization and will carry out a comprehensive preparation and evaluation programme with the volunteers as well as providing support throughout the placement. More info on the EVS programme here: http://www.vsi.ie/volunteer/european-voluntary-servic.html Read stories from some of our former EVS volunteers here: http://www.vsi.ie/experience/
If you are interested in these vacancies please fill in the application form and send it back to Emmet in VSI: projects@vsi.ie.
Application is by our application form only. The deadline for receipt of the application form is 5.00pm on 25 May 2015.
Read the job description here
Complete the application form here in PDF
                                            or here in Word