Let's Inherit the Earth - a seminar on sustainable society Stockholm, Easter 2015
3 Feb 2015
Let's Inherit the Earth - a seminar on sustainable society Stockholm, 2-6 April 2015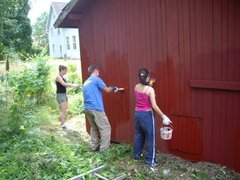 IAL Sweden (SCI) are organising an important seminar on sustainable society over Easter in Stockholm.
How can we create a society that we, as well as our grandchildren, want to live in? How can we affect our social, ecological and economical environment and make sure it is what we want it to be? How can we, together, move towards the world we wish for?  During "Let's inherit the earth" we will investigate how we can be able to create a sustainable society. We will look at economical, ecological, as well as social aspects, with the goal to create a community where everyone can live and flourish. We will share our thoughts with you, but the focus will be on putting theory in practice, and learning how to use certain methods, to get to our goal. We will also talk about how we can use what we have learned as future camp leaders, spreading our vision to more people.
 We are able to welcome 24 participants to the event, about 17 of you travelling from abroad. We wish that you as participants are interested in the subject of sustainability and in discussing how we can form our environment in order to make the world a good place to live in for us as well as for future generations. We also welcome you who are interested in spreading the vision to others as a leader of coming volunteer projects and workcamps. 
Cost: €32 euro for the seminar. 
Travel: 70% travel reimbursement for environmentally friendly means of transport (boat, bus or train) only.
Applications: Deadline is 18 February 2015. Download and complete the attached application form. Important return the application form to info@vsi.ie