Peace Messenger Online Training Course January/February
7 Jan 2015
The SCI Peace Messengers Network aims to promote peace and intercultural understanding to empower people to implement and promote pacifist values in their lives.Peace Messengers are using the non formal education methodology for sessions on workcamps to connect the camps with SCI's identity as a peace organisation.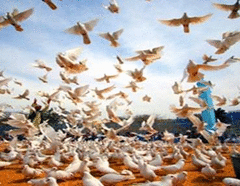 Online Training Coure 2015
We are very glad  to announce a new SCI- Peace Messengers (PM) online course from 11th of January till till 15th of February 2015. Would you like to learn for and about peace? Do you want to start facilitating sessions about peace yourself –offline at workcamps, projects, youth exchanges etc or online-? And to share thoughts about peace with like-minded people from different countries/background? In an informal way you learn the basics of being a peace-messenger during the course. The backbone of the course are weekly skype-meetings at Wednesday 9pm CET (five times, 14th of Jan till 11th of Feb) and assignments in between.
 This is a new opportunity for you to be involved! Fill in the following form and send it at the latest Friday 9th of January 2015 to peacemessengers@gmail.com
 Name:
Surname:
Country/SCI Branch:
Role in SCI (if relevant):
email:
skype id: 
Motivation: