Volunteering by people with disabilities
3 Dec 2014
VSI is currently working with Children in Crossfire (CIC), the RNIB NI and Comhlámh to explore how to make international volunteering opportunities more inclusive for people with disabilities. Helen Walmsley from VSI and Helen Riney from one of our partner organisations, Spina Bifida Hydrocephalus Ireland took part in a seminar on 18th November in Belfast.
People with disabilities who volunteered in Gambia with CIC and RNIB shared their experiences and discussions were held on creating more opportunities for people with disabilities to become involved with development issues and overseas volunteering and on strengthening inclusive practice in Development Education.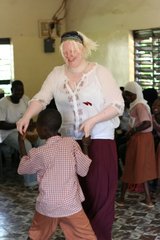 As part of this initiative we are carrying out two surveys to find out how people think and feel about international volunteering opportunities for people with disabilities. One of the questionnaires is aimed at people with disabilities and the other at organisations who send volunteers overseas. 
We invite you to complete the questionnaire for people with disabilities here and if you are interested in completing the questionnaire for organisations please contact Shannette Budhai: Shannette@comhlamh.org
The deadline for completing the questionnaire is 12th December. If you know other people who may be interested please share this info with them.
If you have any questions about volunteering by people with disabilities please contact Helen in VSI: helen@vsi.ie 
Laura McCauley dancing with Modou during her placement at GOVI in the Gambia