VSI Volunteer in MIDI seminar in Spain
1 Dec 2014
The SCI Midi Working Group supports the responsible and smooth exchange of volunteers between SCI branches and partners in North Africa and the Middle East, and the rest of the SCI network in an effort to achieve peace as an alternative to violence and oppression. It seeks to  promote and strengthen solidarity with its partners and the communities where they work, in times of need.
In November former EVS volunteer to Israel, Maggie Ryan, attended a MIDI seminar which was hosted in El Masnou near Barcelona by SCI Catalonia. Twenty-five participants from 18 different organisaitons took part from Ireland, Itlay, Greece, Morocco, Belgium, Tunisia, Palestine, Algeria, Jordan, France, Finland and Syria. The seminar aimed to increase cooperation between countries from the Mediterreanean area and analyze the management of conflict in the MIDI context.
If you are interested in volunteering in this region or would like more info about this seminar please contact Tom@vsi.ie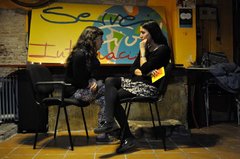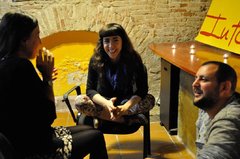 Maggie in discussion with other participants at the seminar.