VSI 50 Years A Growing - Highlights and best ideas
27 Nov 2014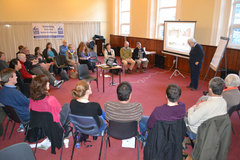 VSI held a great workshop last Saturday called 'Learning from the past –envisioning the future'. Over 30 past and present members took part and many more sent their good wishes – thanks to everyone. Helen Honeyman from the Glebe House Project in Co. Down and former SCI International President along with Aisling Twohill, former Chair of VSI, set the scene by giving inputs on their involvement with VSI and SCI.

Following this we had a brainstorm about how VSI could celebrate its 50th anniversary in 2015 under the following goals:
To celebrate!
To raise the profile of VSI; Press and Publicity opportunities;
To reconnect with past members/volunteers
To revitalise VSI
To seek fundraising possibilities through events and possibly company sponsorship
Lots of interesting and stimulating ideas and projects were submitted from the floor and 5 main themes/projects were then discussed in small working groups. Below is a very brief summary of the ideas-
Films/Books/Exhibitions - Make a film/ radio documentary; Publish a book of volunteer stories; Oral history project; Devise a touring exhibition on volunteering through 50 years;
Campaigns/issues  for 2015 - VSI to prioritise an issue to work on during 2015 e.g. direct provision; work with asylum seekers; European Year of Development;
Remembering the 50 years – Holding a volunteer project on the border; a tour of all workcamp projects; Joint project with Glebe House; Archive VSI photos and documents; Find 50 marriages made in VSI!; Reconnect with past members;
Events - A reunion with past volunteers and members; a gala dinner; Michael D to invite us to the park; make a patchwork quilt; fundraising events;
Media/Publicity - Special website/facebook + tagline on all emails, newsletters etc, a birthday banner hanging from the VSI office;; Use social media: Get Nationwide slot;
What's next? - How you can get involved in VSI's 50 years anniversary
VSI has set up a Steering Group (Board, Staff, Marketing Group + VSI members) to coordinate the 50 Years activities. They will meet on Thursday, 8 January at 6.15pm in the VSI offices. If you would like to help with the Steering Group then email Tom Ryder tom@vsi.ie ASAP outlining your skills and what you would bring to the group.
Assist with an individual event or project – we plan to have a timetable of events for the year in late January and will circulate it to all on our mailing list. Naturally we will need help with all of the individual events. If you would like to get involved contact Tom Ryder at the VSI office – tom@vsi.ie
Ideas for events - If you were not able to come along on Saturday and have a brilliant idea for an event or project to celebrate VSI's 50 years then we would really like to hear from you.