Volunteering overseas by people with disabilities Surveys and Workshop
7 Nov 2014
Volunteering overseas by people with disabilities - Surveys and Workshop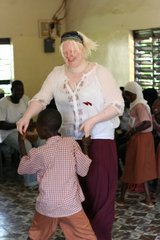 Laura McCauley dancing with Modou during her placement at GOVI in the Gambia. 
VSI is working on an initiative focussing on volunteering by people with disabilities with other organisations - Children in Crossfire, RNIB NI and Comhlámh.
We have three current activities that I hope you can get involved in -
Questionnaire on volunteering for people with disabilities A  questionnaire directed to people with disabilities on what people think about volunteering overseas and disability. Please complete the questionnaire yourself and send it to other people that you think would be interested. People don't have to have experience of volunteering to complete it. We'd like as many as people as possible to complete it so that we know what people are thinking about it. Complete the questionaire here by the 12 December 2014.

Questionnaire on volunteering for people with disabilities for volunteer sending organisations:  If you are interested in completing the questionnaire for organisations please contact Shannette Budhai: Shannette@comhlamh.org  

Disability in International Development and Volunteering Event Tuesday 18th November Belfast:  This is an event organised by the network of organisations (see above). The people taking part will be quite varied, with both experienced volunteers, those who have not volunteered and others who are interested in the issues. You don't have to know anything about development to take part! We want to have a discussion and to hear people's ideas. It would be great to see you there if you are available and please send the info to people you think may be interested. More details
More details about the initiative contact  Helen Walmsley at VSI.