VSI Gender Youth Exchange 2014
13 Oct 2014
Gender Representations in Arts and Media Youth Exchange July 7th – 17th 2014 Cloughjordan, Co Tipperary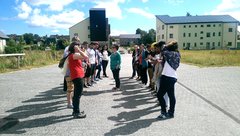 Particpants get to know one another!
The Gender Representations Youth Exchange involved partner organisations from Bulgaria, Estonia, Italy, Catalunya, as well as Ireland, and 24 young people from 14 different nationalities, all aged between 16 and 21 years. The group were joined by a team of 11 leaders, coordinators and facilitators for the ten-day project, which explored the topic of Gender identify and gender discrimination in media and the arts. The project used creative methodologies such as theatre, music and multimedia to allow the young people to create repsonses to the messages they receive about gender on a day-to-day basis. They hosted a showcase for the community of Clouughjordan at the end of the project where they shared their songs, short films, and experiences of the project.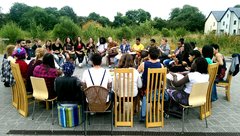 Turn down the sound! Drum workshop for participants
The group also had the opportunity to host an intercultural night, take part in team-building games and take a day trip to the Cliffs of Moher and Galway City. The project was a great success with a lot of fun and learning for all involved.
This project was realised with support from Léargas through the Youth in Action Programme.


You can view some of the short films made by the groups on the topic of gender representations here: