Would you like to volunteer as a personal assistant for one week in Slovenia, with a VSI volunteer who has a physical disability?
23 Jul 2014
VSI is seeking a male volunteer to assist one of our volunteers on a project in Slovenia from 28 August to 5 September 2014.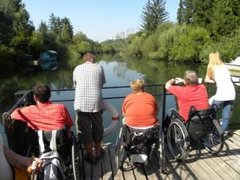 The volunteer has a disability and uses a wheelchair, he is forty-one years old. The tasks for the role include assistance with showering and dressing and other personal care requirements which don't entail medical knowledge. There will be two main parts of the day where assistance is required, in the morning getting ready for the day and in the evening getting ready for bed or going out. The wheelchair is manual so pushing the chair when out and about will be needed. Assistance will also be needed with bags at the airport over and back.
Experience in personal assistance work would be an advantage but is not essential. The personal assistant (PA) volunteer doesn't need any medical knowledge or skills but will need to be ready to assist in whatever way is necessary and must be flexible. The PA volunteer will meet with the volunteer beforehand and will be given all the info needed.
The volunteer project will assist a group of people with physical disabilities on holiday in Slovenia. The personal assistant volunteer can also work with the volunteer group, hang out with them and go on trips with them but time off will be given for the personal assistant work.

This is an unpaid volunteer position. There are no project or travel costs for the PA volunteer; travel, food and accommodation are provided free, the volunteer will just need spending money while away.
This is a great opportunity to take part in an international volunteer project, meet international volunteers, learn about disability issues cross-culturally in Ireland and Slovenia as well as gain an insight in to Slovenian culture.

More details:  If you are interested in this role please contact Helen in VSI with a brief CV and a motivation letter or with any questions helen@vsi.ie   
Application deadline: 31 July 2014 
Once selected, we will request Garda Vetting and seek references from the volunteer.