Cooperation with Palestinian Youth Organisations
10 May 2014
Cooperation with Palestinian youth organisations - European funded Feasibility Visit lays the ground for future projects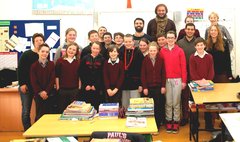 Delegates from Ireland, Slovenia, Scotland and Palestinian organisations in the West Bank and Israel, came together in Cloughjordan, Co Tipperary for a 4-day feasibility visit with the aim of building future partnerships in the area of youthwork. The group of 8 took part in a series of facilitated activities that allowed them to exchange knowledge about their individual organisations, share methods and approaches, and develop a better understanding of the specific context and challenges for Palestinian youth organisations in the region.
In addition to this, the project offered a great opportunity to raise awareness in the local community and to share individual insights into the ongoing situation in Israel / Palestine. The group visited St Michael's Primary School to talk about their home countries and share stories about their childhood there. VSI also organised a public event, "Voices from Palestine" which presented a unique opportunity for four Palestinian delegates, from Gaza, the West Bank, Israel and Ireland to share their personal stories of conflict. Over 40 people attended this event and this was followed by a wonderful night of Palestinian –Irish music in the local bar which was enjoyed by all.
It is hoped the project will lead to concrete partnerships in the future, with possibilities to develop youth projects in the longterm through the new European youth programme, Erasmus+.
The Saadaqa Project took place from February 3rd – 7th 2014, and was realised through the support of Léargas through the Youth in Action Programme. 

Along with VSI it included the UK and Slovenia branches of SCI, along with GREAN Palestine and the Association of Arab Youth – Baladna.