Wheelchair Accessible International Volunteer Projects 2014
1 Apr 2014
 "Actions speak louder than words... Rather than taking about it ...do it! It will be a memory that will stay with you for the rest of your life!" VSI volunteer quote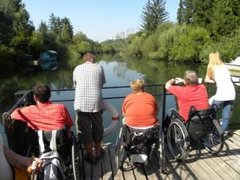 The following International Volunteer Projects in Finland, Germany, Slovakia and Slovenia, are wheelchair accessible and VSI has reserved places for wheelchair users from Ireland.
The accommodation, transport and work are accessible to varying levels. On some of the projects there is less accessibility than others e.g. all areas of the worksite may not be fully wheelchair accessible or wheelchair accessible transport may have to be arranged from the arrival airport. The descriptions below are the general project descriptions taken from our project database and they may not mention accessibility but don't worry if it sounds like some of the projects aren't accessible, all the hosts are able to place wheelchair users and will make provisions or adaptations.
Not every project will be suitable for all wheelchair users, it depends on the individual but we will do our best to accommodate all volunteers. In all areas of the process VSI and the host organisation will offer support to ensure people have what they need to enable them to take part. The hosts are flexible and prepared to make changes where necessary to support wheelchair users. For example, on some of the projects, the sleeping arrangements are a sleeping mat and sleeping bag, if it's not possible for you to sleep in this way then VSI and the host organisation will arrange for a bed that you can use.
 More info is here and if you have any queries or questions then contact Helen Walmsley at the VSI office 01- 8551011 email: helen @ vsi.ie