Does your organisation need volunteers during 2012?
12 Mar 2012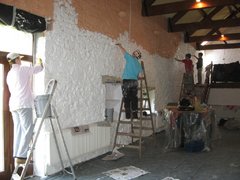 Do you have a project which your organisation would like to see completed this year?
Could a group of international volunteers help you?
Voluntary Service International (VSI) is a non-governmental organisation co-ordinating International Volunteer Projects around Ireland. In 2011 we organised over 22 projects, benefiting many community, disability, environmental and other voluntary organisations nationwide (see our annual report 2011 for more details).
The projects usually last between 8-20 days and generally have between 6 and 16 volunteer participants, from many different countries. The official language on the projects is English.
International Volunteer Projects are a unique form of volunteering which bring people from different countries, cultures and backgrounds to live and work together on projects of benefit to local communities and organisations. We are committed to the promotion of peace and international understanding. As well as carrying out work, the volunteers learn about the work of the organisations and the issues that are important to them. There is often a structured learning element to the projects.
Further information on hosting an International Volunteer Project can be found here. If you would like further information or would like to meet to discuss an idea for a project, then email or phone us to arrange a meeting.

Voluntary Service International
30 Mountjoy Square
Dublin 1
Tel: 353(0)1 8551011
www.vsi.ie