Conflict in Bosnia, Human rights in Ukraine and refugees in Syria
Peace and disarmament, Antiracism, antifascism, remembrance, Refugees, immigrants and ethnic minorities - Middle East
Paddy Anderson, a lecturer in Cork Institute of Technology has participated in three VSI projects: in Bosnia, Ukraine and Syria. Paddy works and lectures in the Community Development sector and is very much interested in Community Politics. She is particularly interested in the causes of inequality and how this impacts on ethnic identity and ethnic mobilization. She wants to get the real side of what is going on in each country she gets to visit. Her volunteer interest is therefore focused on countries that are ethnically diverse and have recently undergone significant political change.
"I have been volunteering for 30 years now. I did my first project with VSI Ireland 5 years ago. This involved participating on a cultural exchange project, in Banja Luka, Bosnia. As part of the project, we looked at the politics of the conflict in Bosnia, and tried to get an understanding of different perspectives of the participants in the conflict. In exchange, we told the locals about our understanding of the conflict from the outside and also shared our understanding of conflict in our own societies. Seven or eight different nationalities participated in the project so the composition of the volunteers was very interesting and it was interesting to listen to the different perspectives on conflict and conflict resolution. Overall, I spent about a month in Bosnia, because I traveled before the project start date and remained and traveled to Sarajevo after the project had finished. The project was extremely interesting and because of participation in it, I got to know people personally, as I spent part of the time staying in family homes. This allowed me to get a sense of what is really going on in Bosnia and also to get a sense of how it impacts on individuals.
After the experience in Bosnia, I traveled to Ukraine to participate in a Human Rights project. A Human Rights trainer worked with us for 3 days to help us prepare workshops for delivery across the country. Volunteers from 6 different countries participated in this project. We traveled 1000 kilometers around Ukraine to deliver workshops to seven different NGOs. This was a very exciting and educational experience.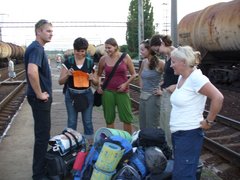 Which way is Kiev? Paddy Anderson (on right) with the other volunteers
Last year I choose a 4-week project in a Palestinian refugee camp in Syria. This was again a cultural exchange. The project consisted of a series of workshops, lectures, and conversations with Palestinian youth about their views on the conflict. We had speakers from various relief agencies, a speaker from the United Nations, and various academics and volunteer workers from the Palestinian refugee camps in Syria, Jordan and the Lebanon. 40 volunteers from twenty different countries participated in this project. It was absolutely superb! I found this project very significant in terms of understanding the human side and human cost of ethnic conflict, mainly because I got meet the local families who were able to tell their stories. It was such a tremendous experience I now have weekly text message contact with the Palestinian families.
On the 27th July 2009, I will be spending 5 weeks in Palestine. The visit will consist of working jointly with VSI and a Canadian Humanitarian organization. We will be based in West bank, in the Nablus refugee camp. The work will be carried out with Palestinian young people and youth and will consist of encouraging them to talk about their experience of occupation using the mediums of Art and Drama."
VSI is very safe to travel with!
"I highly recommend traveling with VSI because of the very wide range of projects available. The other reason is it is very safe. Everything is very well organized: advice on travel, a meeting point and orientation. This is especially important for females who travel on their own. The project also facilitates integration into the local culture. If you are interested in real lives and real people it is the best way to travel. You will also meet and work with international volunteers from between 5 and 7 different nationalities. VSI is also, in my view, the safest and cheapest way to volunteer. You just pay for the flight and a fee. All accommodation and food are paid for, while you are there. Without VSI, I could not have had the experience of going to people's homes, entering their everyday worlds and sharing their experience. Volunteering means making a decision and a personal choice to give something. But we should never see volunteering as a sacrifice. The volunteer gains immeasurable riches in the process but sometimes it takes time to realize this.
My next project
"Maybe in a year or two, I would like to spend at least a year in the Middle East on a long-term volunteer project. I would like to do cultural exchange. I am very interested in the work of the Brazilian Augusto Boal who developed a method called the Theatre of the Oppressed, which is a therapeutic drama tool for people who suffer oppression and injustice. Boal viewed theatre as a medium to help to cope with their oppression.
It is very important to tell their stories
Volunteering has made the world smaller for me, especially when I make connections with people who are thousand of miles away, who dress different, speak different and oftentimes think different. But I now realize that most human needs are quite similar. People just have different ways of expressing those needs and different ways of getting those needs met. However, if needs are not met, people may often resort to violence. From my experience of volunteering I have learnt that listening to the stories of those who feel left out of their own society and misrepresented to other societies is very important. It may, in a small but no less significant way, provide an alternative to violence. However, this can only happen if the listener passes the story on to others.
YOU ARE PART OF THE SILENCE OR PART OF THE STORY!"
Paddy Anderson, 2009