Teaching in Azerbaijan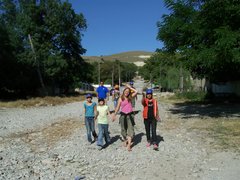 At the end of the summer, I ran into a friend in a Dublin café. When I said that I was just back from Azerbaijan, her response was "so it really exists!?" Hardly surprising - most Irish people can't point Azerbaijan out on a map, let alone tell you anything about its culture. But what shocked me about my friend's remark was that it echoed, word for word, the reactions of so many Azerbaijanis when I told them I was from Ireland. There are a lot of differences between Ireland and Azerbaijan - but one thing is exactly the same: how people in both countries express such surprise, curiosity and even delight, in hearing stories from a place so remote as, on the one hand, Ireland - a far-flung island on the periphery of Europe, and on the other hand, Azerbaijan - a far-flung oil-land, also located, strangely enough, on the periphery of Europe.
Guide books call Azerbaijan a cultural cross-roads, displaying the rich influence of the Byzantine, Ottoman, Russian and Persian empires, the Islamic world and the Soviet Union. It is also a modern day cross-roads, bordering Russia, Georgia, Armenia, Turkey and Iran. Over the past few decades, it has become home to refugees fleeing conflict and poverty in all of these countries, as well as non-neighboring countries such as Afghanistan. Within Azerbaijan, there has also been a huge flow of internally displaced people from the separatist region of Nagorno-Karabakh - a conflict which remains unresolved. While the effects of the oil-boom and America-sponsored 'democracy' create a good impression on tourists visiting the capital city Baku, beyond the beautiful old town centre there is ample evidence to suggest that the problems caused by the social upheaval of the last twenty years are not being fully addressed, and that there is nothing very 'liberal' about democracy there - at least, not yet. And, as in any country, the most vulnerable members of society are the children. Which is how I came to spend nearly six weeks in a remote village in the breathtakingly-beautiful Caucasus mountains, living in a house that sheltered almost thirty homeless children for the warm summer months.
Volunteering is not just limited to gaining an insight into the problems in a society - it also means being offered the chance to act on what you learn, to create a change, along with qualified professionals and volunteers in your host country. Not only this, but it also helps you to understand the people you are dealing with - find out what motivates them and - because volunteering is also about personal development - how you can play an active role in their lives. One of the many, many, wonderful things I discovered from the children in Azerbaijan was how alike young people are no matter where you meet them. They were interested in music, cartoons, films and football, they wanted to talk about family and love and God and growing up. They were clever, eager to learn and proud of every English word they memorized. They loved drawing, dancing and putting on plays. They were full of energy, running and playing from seven in the morning till midnight. They behaved like a very large family, from four year old Asmar up to seventeen year old Dilara. And the more time I spent with them, the more they treated me like an elder sister and friend - not a teacher or stranger. Although I gradually got to know the sadness and anxiety that is a feature of all of their lives, I also learned their optimism and strength.
A typical day would begin at about half seven with morning exercises and singing the national anthem - then we'd sit down to breakfast at the long outdoor tables - food was prepared outdoors as well. Usually we'd eat the local bread, butter and cheese, and drink tea, but some mornings there would be eggs or porridge. Washing tended to be a bit of a scramble, with limited toilet facilities and the only running water coming from a tap in the garden. From ten until about one we would divide the children into groups for classes. While one group learned English, another group would be colouring, and another one might be playing a sport or doing another activity. When one activity ended, the groups would swap over. There was some free time before lunch, during which we'd often just keep playing or drawing or talking. Lunch was more varied than breakfast, but usually involved potatoes, onions, aubergines and tomatoes. We tried many local meals such as adjapsandal and dolma. There was also meat for non-vegetarians, and plenty of bread. After lunch was the hottest part of the day - about thirty degrees - and so we would have a siesta. The youngest children might sleep, while the older ones and some of the volunteers played cards and dominos, or talked. The afternoon passed informally - the volunteers might flag down a car in the village and go to the town half an hour away to use the internet and go to the bazaar, or they might go for a walk in the village where we lived, past the small lake and over the hills, where the view was spellbinding. We also made presentations about our own countries, which meant learning about different European cultures - Swiss, Czech, Polish, Italian and more. Mostly, we spent time playing sports or talking to each other and the children - a mixture of Azerbaijani, Russian and English languages that we got used to very quickly. This would be interrupted at about five o'clock for tea and biscuits, and then we would chat or play until dinner at eight. Afterwards was more free time, to play games or talk or visit a local cafe. The smallest children went to bed at nine or ten, the older teenagers might stay up until midnight.
As well as this, on weekends and during the time I spent in Baku while my visa was being processed, we had the opportunity to see other parts of the country. From the historical village of Lahic, famous for its copperware, to the eighteenth century Khan's palace in Shaki, to the Seven Beauties Waterfall in the mountains near Qabala, to the soviet-era observatory in Pirgulu, to the mud volcanoes at Qobustan, to the mosques, palaces and baths in Baku itself, we learned about the history of the country while getting to know the other volunteers and sharing our impressions and ideas.
For me, it is impossible to talk about Azerbaijan at any great length without also talking about volunteering for VSI. I don't think that there is any other way I could have gotten to know and love Azerbaijan so well without the help of AYAFE, my host organisation there, who took such good care of me and ensured that I was warmly welcomed in to a community of people who could teach me more than I ever dreamed of knowing about Azerbaijan, its people and culture. With their help I and the other volunteers travelled all over the country, getting to know the traditional culture - the food, the music, the language - as well as contemporary culture, politics and society, but we also got to experience what life is like for Azerbaijani people, and see the world through their eyes. This taught me to understand the country I was in, but also how to look beyond the difference in nationality and get to know the people around me, however old or young, as individuals, each with their own unique story and personality. I saw and experienced many incredible things over the summer, but the magic of it all was how even the simplest of accomplishments - teaching a child to write the alphabet, climbing a hill or asking for ice-cream in a shop - could create a sense of achievement and elation. In that sense, every day was unforgettable.
Sinead Walsh, 2008
Location Map